Exclusive interview: Hilton's area president, MEA & Africa, Jochem-Jan Sleiffer
Group editor Paul Clifford sits down with Sleiffer to talk about his first eight months and what's coming next
It's clear after spending just a few hours in his company that Jochem-Jan Sleiffer is a people person. Hilton's area president, Middle East, Africa & Turkey is looking around the Waldorf Astoria DIFC, where the photoshoot was taking place for this feature, and is talking to staff along the way. The hotel staff are nervous around him at first, as you probably would be when your boss' boss' boss' boss' boss (and the rest) is in the building, but after a minute or so in his company they relax. His charm is disarming. "Call me JJ," he says the first time we meet. "Everyone does." You can see why his team look up to him (and not just because he's tall).
Sleiffer, who has been in the role since the start of 2020, has had quite the introduction to the region. No-one would have predicted what his first eight months in post would have thrown at him. But, despite the turbulent year so far, he appears to be taking it all in his stride and is optimistic for the future.
A few days after the photoshoot we sit down for this interview. Only now we're talking over Zoom. While Sleiffer's role usually involves almost constant travel, the past few months have curtailed it. Now, however, he is in Bodrum, Turkey, to visit two new Hilton properties, Susona Bodrum, LXR Hotels & Resorts (the first LXR brand in the country) and DoubleTree by Hilton Bodrum Isil Club Resort.
The trip coincided with the Dutchman's 30th anniversary as part of the Hilton team, which is where our conversation starts.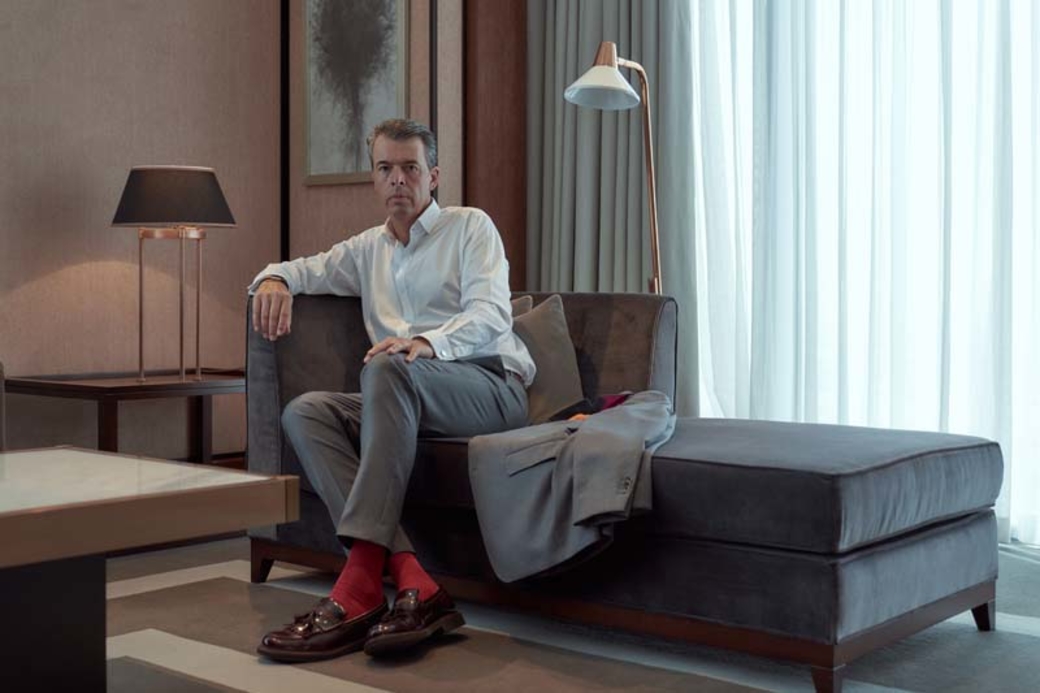 "When I was six years old I stayed with my family in a hotel in Austria and it made such an impression on me when I got back to school I wrote an essay about my experience," he says. "I still have it. It says I will go to hotel school, I will buy a hotel, I will buy a chef and I will buy a maid and I will get my family to stay with me.
"I'm not from a family of hoteliers but it made an impression. By the time I was 15 I was working in a restaurant washing dishes and serving people alongside my studies. I didn't get into hotel school so I did facility management. I still wanted to do an internship in a hotel, so I ended up in the Hilton Amsterdam in 1989 as a trainee. I made a connection with the F&B manager who hired me a year later as chief steward in the kitchen."
After eight months Sleiffer followed his boss to Brussels and has never worked in the Netherlands since. Once in Belgium he soon moved from an operations role to a commercial role.
"My boss said if you are a good leader you can work in any part of the business, and I have taken that on. You really have to look for people with those leadership skills that can be put to use in other parts of the business. It was a courageous role to move me, but it was an opportunity to learn things that would eventually make me a better general manager."
His first GM role came at the Hilton Athens. A job that he says threw up some problems at first.
"All of a sudden you are the boss and you have people looking up to you, and if someone has a problem, people think you will have the answer. There were sleepless nights, but ultimately I came through."
Moves to London and back to Brussels followed, back to the property where he was washing dishes 15 years previously, before becoming area manager in France then onto VP for Northern Europe (overseeing 23 hotels). That then grew to a position looking after all of Europe apart from the UK and Ireland.
He now is responsible for around 160 hotels in this region with almost the same amount in the pipeline.
Mentorship
He says Hilton's ability to retain and nurture talent is the reason he's still at the company all these years later, and is keen to see that the next generation of talented hoteliers get the same opportunities he has.
"We need to make sure they can grow and are challenged. The mentorship programmes we offer, and I personally mentor some people, means we're always working to get the best people through our ranks quickly, and I get a lot of satisfaction and energy from working with those people, and I'm learning from them, too. It's really nice to get ideas of how we can run the business differently.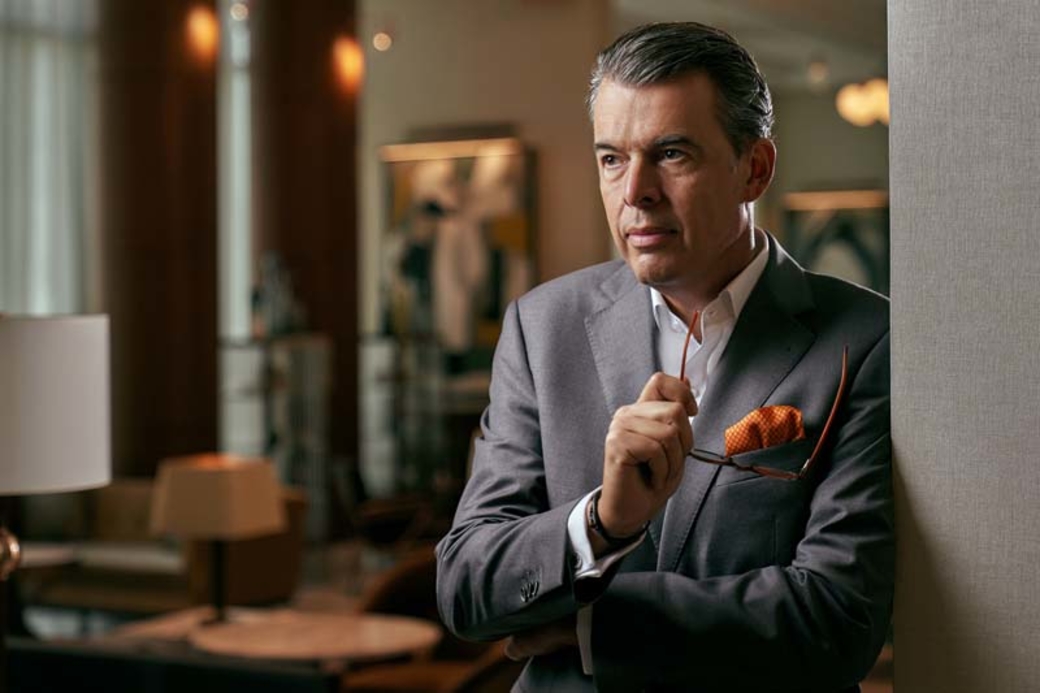 "One of the things we have to do more of is listening to the young people in our teams, but I think that's one thing Hilton does particularly well. We're trying to have as much open dialogue with the next generation as we can. They have a different view of how people should work. Flexibility is something that's key for them, and we need to adapt. After the current crisis is over we need to work with our teams and owners to protect our business and deliver the things that make hotels successful.
"It's interesting to be working with five generations of people – from 65 year olds to 16 year olds. You need to have an open ear, find out what drives those young people. Here in the Middle East we're working with the local [Emirati] community and are speaking to their schools. We have the Board of Future Generations which has people between 18 and 25 years old, sitting as a shadow board, almost, and give them problems to solve and they come up with a different answer to we would."
He points to the Hilton Honours app as an example of what the younger members of the team can come up with. Each city now has an area guide on the app, which is put together by the young team members, as they pointed out that's what younger travellers want to know.
"People will work better if they work for a company they can believe in and has the same values as they do. Hilton cares about the way it treats people. It cares about sustainability. We are a first-name company. People call me JJ, I'm absolutely fi ne with that. It means people feel comfortable talking to me. It's important that there's communication and we interact with the community we operate in. By 2030 we want to double our social impact and half our environmental impact. That's something people can get behind.
Staying sustainable
Hilton introduced its CleanStay in the midst of the COVID-19 pandemic, becoming one of the first hotel groups to introduce new health and safety protocols for the new landscape. With travellers now putting cleanliness at the top of their priorities, Hilton wanted to act fast.
CleanStay standards include sealing rooms after they've been cleaned and sanitised, so guests know no-one else has been inside, decluttering the rooms of unnecessary items, and more.
But has it been possible to maintain the same sustainability goals while having to increase the use of things like single-use plastics, for example?
"Taking care of the world around us, which we call Travel With Purpose, has been around for at least a decade. We do this already, not because it's a trend. You can also see from our websites what each hotel does in terms of energy consumption, water and energy usage and more. This is part of how we measure our social and environment impact.
"When it comes to hygiene, we had to rethink how we operate very quickly. During lockdown we were discussing what F&B experiences were going to look like, what the room experience would look like, and so on. Then I spent time going round some of our hotels to see how things were being done, and, being honest, at first it wasn't quite right. We were learning as we were going.
"The teams had to adapt, they had to educate customers about distancing, they were working behind plastic screens. At first we had to serve food on plastic plates and using plastic cutlery. That's over now but at first our team were looking at each other saying 'this is not what we stand for'. But it took time to adapt.
"We also had to look at hotel rooms and see what wasn't needed. I don't like clutter in rooms so I had already started some of this, but now people don't want too many things they can touch in their rooms. It does mean we have to have more things that are recyclable. We want to get rid of plastics, so we had to look at ways we could do these things without using more plastics. If there's a cost to that then we have to take that on. We're a big hotel company and people look for it. We want to be flexible for customers and provide them with a safe, clean stay."

A tough year
The reality is that 2020 has not been a good year for the travel and hospitality industries, and do Sleiffer's first year in his current role has not gone as he imagined. This has been the same for all hotel groups, of course, but have there been any positives? He thinks you can find some.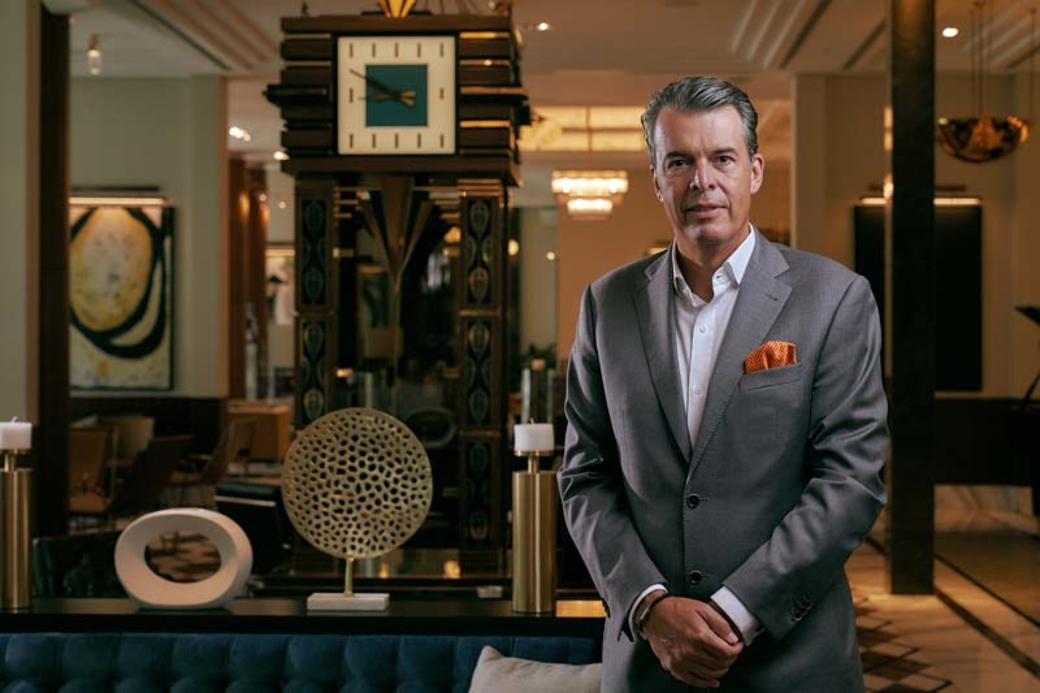 "When I arrived we were in a very strong position here. We had an excellent leader [Rudi Jagersbacher, who Sleiffer took over from] and he is still here helping me settle. We had a good team across the board, too.
"What the crisis brought was the chance to see what people were made of. It also meant our focus was tightened. From 250 things to focus on we suddenly had two, keeping our team members safe and keeping our business safe.
"I found the team really stuck together. I know they also were very appreciative of how each of them stuck in and got their heads down to deal with the crisis. Not everything was good, of course. We're in the business of opening hotels, not closing them. So we had to adapt quickly. We had a period when a lot of our hotels were closed. As we're speaking, most of them have reopened, which is great news. Now we have to make sure our guest experience is right. The teams and general managers have done a great job. I have been to see as many as I can and let them know how much I appreciate the job they've done.
"What I did early on is to link with the key people in the area. All the tourism departments in the emirates and countries in the region have done an amazing job. As leaders in the sector we could work together to make sure things opened up again safely for the industry. I had to accelerate those relationships, but it was necessary and I'm glad I got to do it.
"The other part of the relationships is with our owners as we look after their properties, and I have to say I've been honoured to see how we've dealt with the teams overall. We did have to lay off some team members unfortunately, but I'm hopeful they can re-join us when it's possible. We have invested a lot of time in them and they have invested a lot of time in the company. Some have written me letters saying they'll come back when possible. We have a strong company culture around people and I'm proud to be part of that."

The future
As tourism starts again and business starts to get back to normal, Hilton is looking at its pipeline and expansion.
"We want to be where our customers want to be and I think there's still a huge opportunity for our service-focused brands [Hilton Garden Inn, Hampton, DoubtleTree] to be in every city," he says. "There's a huge opportunity to grow.
"The pipeline has not slowed down, construction has continued, some projects might not be at the same pace, but these are all active projects. We are also looking at conversions to some of our brands such as LXR and Curio. You get all the advantages of being part of Hilton if you do this – and that's extra to our pipeline of 143 hotels. And we are not a company that wants to make big purchases. We grow organically and believe in our own brands and see a lot of our current owners looking to open new hotels with us.
"I still believe this is a great business to be in. We are building a lot of hotels, we still have a lot of hotels in the pipeline. What I'd like to do is be more localised and really work with the people in the country and set up internships. During lockdown we did some with Dubai College of Tourism virtually. It is important to keep the future generation involved.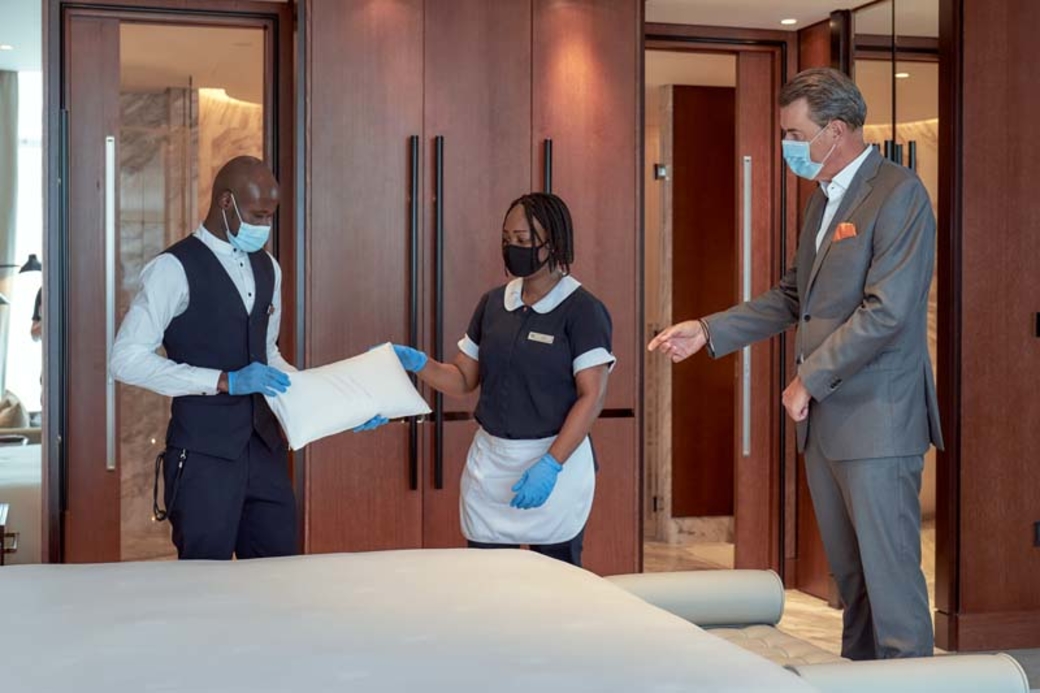 "I also think we need to look to nurture our female talent more. We don't have enough female general managers in my opinion. I don't think we do badly in either of these areas, but I do think we can do better. If you continue doing what you're doing you will always get the same result."
Guest expectations
More than ever, people's expectations are changing when it comes to staying in hotels, and there is a certain level of service expected in hotel in the Middle East that may not be as prevalent in Europe. Is it hard to keep on top of the changing demands? Sleiffer says with data comes knowledge.
"When people travel they want flexibility, the opportunity to rebook. We have done a lot of research with more than 100 million Honours members worldwide and they say they want a personalised experience. We can offer that at all levels, and while you might get more personalisation at a Waldorf than a Hampton, we can still offer that personal touch. You might not want your room cleaned every day, that's an option. We don't want to be in there if you don't want us to. Let us know. It is small things that customers want to make them feel secure. I think when you're a big, trusted brand like we are, you have the opportunity to do that."
Management style
"I'm a very visual guy, I'm a people person," Sleiffer says. "I'm also very direct, which I'm told is a Dutch trait. Maybe it's something I need to work on...
"But as an example of what I've been doing during lockdown, when there have been successes I've recorded video messages for the teams, giving shout-outs to individual members when needed. They've been played in team meetings and in accommodation while things were closed. It's important to keep people's spirits up. I'm also results driven and we've had to be nimble to react quickly to keep our business a success.
"I think I'm open and supportive, and I want to be close to the teams and get out there. I want to show them that I know what I'm talking about." And with that he has to leave, the new team at the Susona Bodrum are waiting. Nervously, we'd imagine. That feeling won't last for long