How the director of Dubai's The Lost Chambers Aquarium spends her day
FInd out what Natasha Christie does at Atlantis, The Palm each day
We join seasoned hotelier Natasha Christie on an action-packed day at Dubai's Atlantis. The Palm, where she looks after one of the resort's biggest attractions, The Lost Chambers Aquarium.

6am I usually enjoy an early morning walk with my pet Yorkshire Terrier, Kiko. I find it relaxing and the walk gets me into the frame of mind to plan my day ahead. Being in the fresh air and nature is also a great start to the day. I catch up on any urgent emails before heading for the office.

7am I like to enjoy a light breakfast and get ready for work. I opt to dress in smart/casual, comfortable clothes that are equally suitable for my rounds at the aquarium and for working in the office. I also usually have meetings with members of other departments.  

8am I have a catch up with my managers on anything new or planned for the day covering everything from animal procedures and treatments, to water systems, guest events, and initiatives with other departments.
8.30am I carry out rounds at the aquarium checking 22 of the various exhibits, Ambassador Lagoon and Shark Lagoon ensuring that everything is perfect. Attention to detail is key to ensure we are ready to open the doors to the public. Aside from ensuring the health and welfare of every animal, we also need to make sure the lighting, music and theming is in place, and that the acrylic windows are spotless. I then check the
bookings for the day before going over the rest of my emails while enjoying my morning coffee.

9am The GM and management team have a daily meeting from all areas of the resort including F&B, marketing, PR, rooms, revenue, fi nance and marine and waterpark so that all are up to date with what is happening and can plan ahead.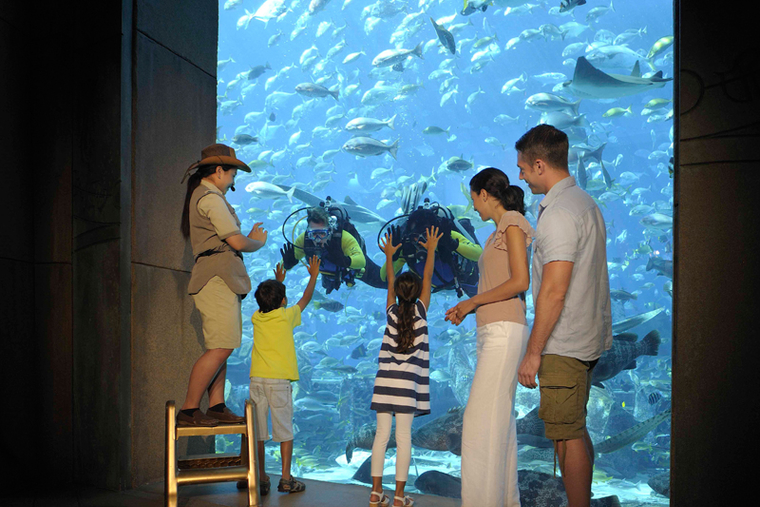 10am I spend a few hours monitoring the aquarium operations, speaking to our guests, documenting the feedback that we receive and supporting the team with daily procedures.

Noon I usually have a casual lunch with fellow colleagues to enjoy some bonding time with them, or a business lunch with a fellow director from another department to strategise ideas.

1pm I spend the afternoon working on developing new projects, as well as staff development, guest programmes and other strategy ideas.
4pm I check in with my managers on the day's activities and do a fi nal walk through of the exhibits. Although there's usually not much that has changed since my morning rounds, I welcome the calm and peacefulness it brings me to end the day.

6pm That's a wrap for the day and I then prepare for the following day for a new adventure. Working with marine animals guarantees a different experience every day, and I absolutely love creating new experiences and everlasting memories for each and every guest that visits the aquarium.