Day in the Life: Chief steward, Ramada Hotel & Suites by Wyndham Ajman
Surendra Singh walks us through a day of tackling food waste, banquet planning and keeping the property as clean as can be
In his role as chief steward, Surendra Singh plays an important role in the hotel's waste management programme. He is tasked in ensuring that the compost machine is always in good working condition. Part of his daily routine is to segregate the organic and inorganic waste to make sure that the machine will only take in the items that can be turned into compost. In addition, as part of hotel's recycling programme, color-coded bins are placed in the kitchen and public area. Through these segregation methods, it will be easier to have an efficient waste management scheme.
Here's what a typical day is like:

7:45 am: I wake up and drink two glasses of warm water. Then, I do a 15-minute warm-up exercise before taking a shower and get dressed for duty.

8:45 am: I eat breakfast at our staff cafeteria.

9:00 am: My duty starts. I check all around the kitchen if there are pending work or any cleaning tasks that are not completed by those who are working on a night shift, and then follow them up.

9:30 am: We have a briefing with the executive chef to discuss the events of the day and plan our course of action.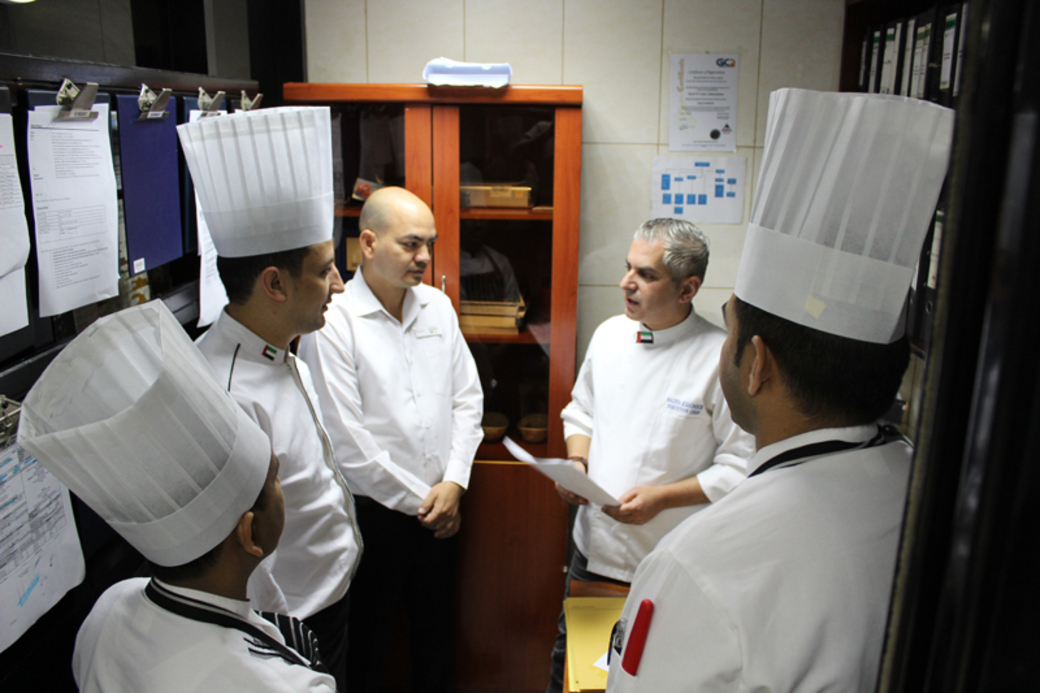 Above: Briefing with the executive chef and their team 

9:45 am: I start the office tasks by checking the email for information that has to be shared with my team. Then, I start the daily market list and store requisition requests. 

10:30 am: I do the rounds at Majestic Ballroom, Zero Landfill Room, and the Urban Farm to check if these areas are all clean, well-maintained and presentable.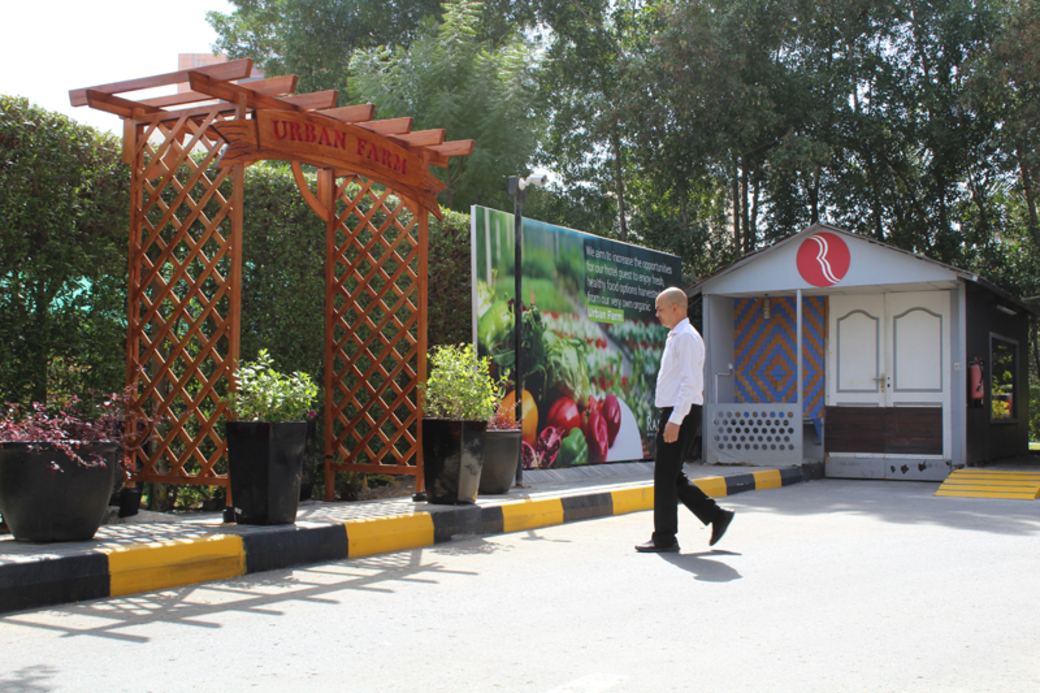 Above: Visiting the urban farm
10:45 am: It's time to prepare for the lunch buffet set-up at Orchid Restaurant. I supervise the stewarding team on examining the set-up including the cleanliness of the utensils and display to be used, and the temperature of the dishes to be served.

11:00 am: I review all documents related to HACCP and update the inventory.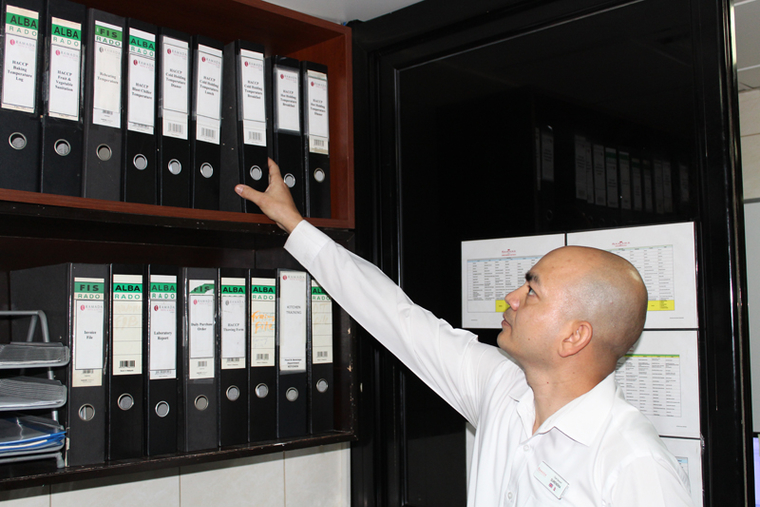 Above: Reviewing documents related to HACCP

12:00 pm: I check around the kitchen if there are any maintenance work required and then report to the engineering department.

12:20 pm: I supervise the lunch set-up at the staff cafeteria.  
12:40 pm: I go back to the office to check my mail and work on pending tasks, if any.
13:00 pm: Lunch time with my colleagues at our staff cafeteria.

14:00 pm: I once again ensure the cleanliness and sanitation of the kitchen, which is an important part of kitchen operation. We have a busy operation and I make sure that  my team is around. It is a busy time for the kitchen for the preparation of dinner, or banquet if there is an event at the ballroom. I assist the team and confirm that banquet event orders are reviewed and proper set-up is in place.

15:30 pm: My role as a chief steward requires me to be available in kitchen and cafeteria, as well as the dry storage. I check the ballroom even if there are no functions, and assist the chef's needs in relation to stewarding in order to maintain a clean and safe environment. I also check the compost machine at the zero landfill room, and make sure make sure that the dry and organic wastes are properly segregated and handled.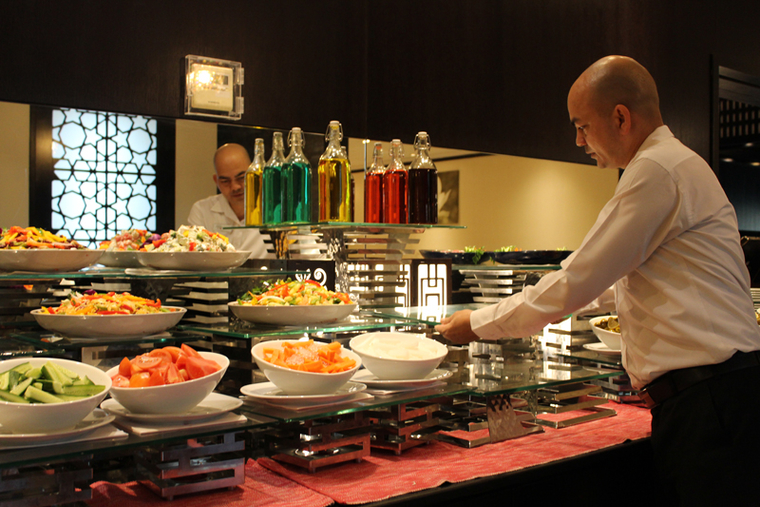 Above: Adjusting the buffet set-up

17:00 pm: Time for briefing with stewarding team to cover both shifts – morning and evening. We assess the tasks for the day and discuss the cleaning schedule, and incorporate staff training in our daily routine.

17:30 pm: I visit all area of kitchen to make sure everything is functioning smoothly. If there are any important tasks that are pending, I handover it to the team on the next shift.
18:00 pm: My duty is officially over.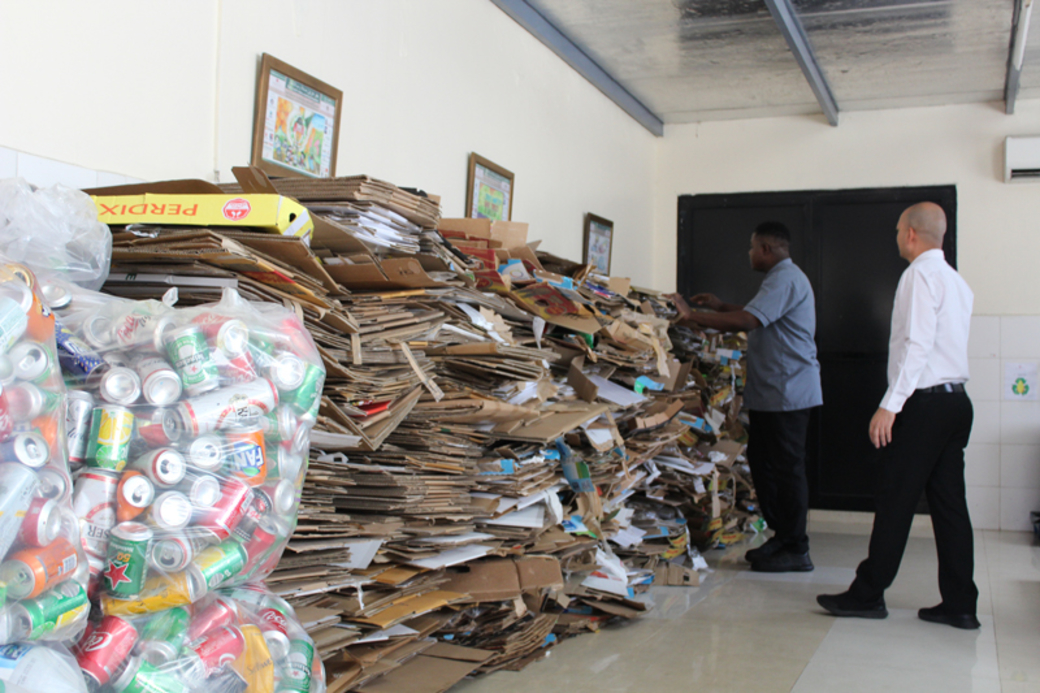 Above: Supervising the waste segregation at the zero landfill room
18:10 pm: I refresh and call or chat with my family back home
19:30 pm: Dinner time. 
20:00 pm: I watch the news and check my social media pages, as well as chat with my friends.
22:30 pm: I go for a light exercise by walking around our parking area.
23:30 pm: I take a shower and check social media before going to bed.
12:00 am:  Time to sleep and recharge for the next day.