How Radisson RED pulled off a successful opening during a pandemic
The hotel's curator Stuart Birkwood on the outside-the-box ideas that make the property stand out
Hotels have had it tough in 2020, we've dedicated many a word to the issues faced by the industry in Hotelier Middle East over the past four months. Everywhere from long-standing institutions managed by global leaders to independent boutiques have been hit hard. Imagine, then, being a new opening, one that does things a little differently to most properties, opening in a hitherto untouched part of Dubai, just before COVID-19 struck.
Step forward Radisson RED, Dubai Silicon Oasis, the first Radisson RED hotel in the Middle East, designed to showcase a lifestyle-select concept designed for the modern traveller. Despite arriving at a difficult time for the industry, there have been many positives for the hotel so far. We chat to Stuart Birkwood, whose job title is curator of the hotel, in line with the brand's art and design focus, to discuss how it's gone so far and what happens now.
With more than 20 years in the industry, Birkwood has worked for the likes of Sheraton Hotels, Starwood and Marriott before moving to Radisson RED, where his remit takes in introducing the brand to the region and overseeing its journey.
He leads an international team who speak multiple languages, dancers, DJs, artists and individuals who are passionate about hospitality.
He starts with putting us in the picture of 2020 so far. "Technically we've had three openings in 2020," he says. "The hotel launched in February, pre-COVID, then our 59 branded RED apartments opened during the pandemic, as did our meeting centre which hosts 10 conference rooms and a multi-event space of 600 sq m – so it's been a full on year so far."
The striking property is filled with one off design pieces from local designers, something that's ingrained in the Radisson Red way of life and that helped to create a buzz about the property. Birkwood adds: "Radisson RED is known for its strong design ethos and an essential part of that is working with local designers to create visual identity reflective of the region.
"Teaming up with local partners like APL (Art Painting Lab) to create our striking murals, ChariCycles for our red bikes dotted around the lobby and Neel Shukla on our RED falcon sculpture means we instantly stood out.
"A very welcome challenge was ensuring that we gathered the right RED crew to nail the vibe and deliver the brand narrative – thankfully I can say that they have been absolutely awesome."
The Dubai Silicon Oasis location means the focus is on attracting the local community to the hotel, and with 100,000 residents living within a five-minute drive away, part of Birkwood's task it to make sure there are plenty of reasons to visit.
He adds: "It's all about making sure Radisson RED is relevant to them. We've got something for every tribe out here, from singles to families, couples to pet lovers, sun-seekers to party people."
The mention of pet lovers is no mistake, the hotel has just introduced a pet staycation package. Birkwood expands: "Radisson RED is famously a dog-loving brand, with our sister properties around the world proudly housing a doggy mascot that lives at the hotel.
"It was important to us that UAE residents are aware that we are pet friendly. With the time for summer staycations coming up, we wanted to stand out from the crowd and what better way to do it than with our 'pawsome' pet staycation package?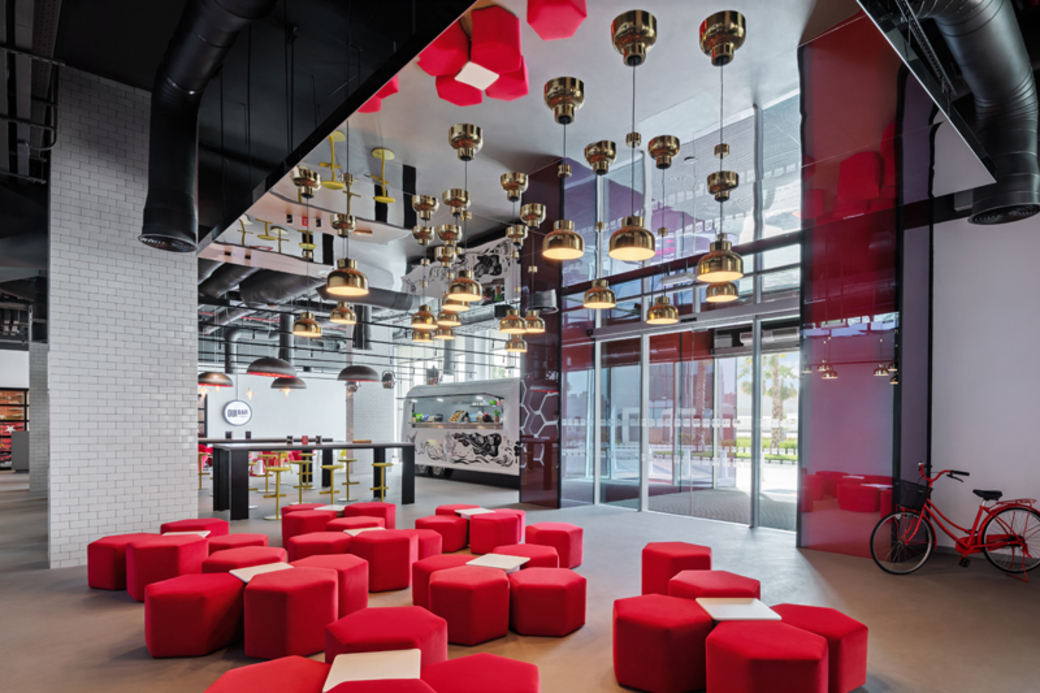 "There has never been a time that properties needed to stand out more. For RED it always comes back to those local collaborations and also ensuring we are delivering fun and engaging activations throughout the year. We've already chalked up some incredible partnerships with College of Fashion and Design to help design our team bandanas, KUKRI Sports for our uniforms, GEMs School on a mural competition for students, Maria Iqba and VIISCEN to name a few.
"Bringing the local community together through creative collaborations and championing local businesses is what it's all about for us."
Despite the pandemic, Birkwood is confident things will improve. He says: "We're looking onwards and upwards, with a clear view of the light at the end of the tunnel. Dubai is opening up and we are starting to see some international tourism, but for us it's about welcoming in our local community and building from there.
"We've only just started here at Radisson RED Dubai Silicon Oasis so we've got a whole bunch of cool stuff to shout about as the new normal kicks in – from comedy nights at OUI Bar + Terrace to our RED Roof Bar pool overlooking Silicon Oasis.
"We call our crew the 'incREDibles' because they have been amazing since the opening in February. Watching them face challenging times in the past few months and remain dedicated to delivering the RED message makes me very proud."
With such optimism, dedication and a clear direction for the brand, we're looking forward to seeing what happens next.