HVS President- Middle East, Africa and South Asia Hala Matar Choufany on stakeholder outlook during COVID-19
The company's findings on the shift in hotel owner and investor sentiment as a result of COVID-19
While we were projecting growth in the MEA region and applauding the ongoing efforts of governments in developing further the tourism infrastructure, improving accessibility, attracting local and foreign investments and easing off travel restrictions, we wake up to a serious and destructive threat, an unexpected hefty guest check-in that will undoubtedly have a prolonged impact on the hospitality industry and drive a drastic change to the traditional travel and tourism landscape. We have now learnt that this unprecedented event is an unmatched shaker to our industry, therefore we should be prepared to unlearn and relearn about the future behaviour of the traveller, the hotel guest and assess owners' current challenges and investment outlook.
The immediate response of the key hospitality stakeholders in dealing with this crisis shows solidarity, efforts to mitigate the undeniable long-term impact on human capital and businesses and the unquestionable priority to safeguarding the wellbeing and safety of the citizen of the world. And while the support of the key hospitality stakeholders has been remarkable, the long-term financial implications on the sector is likely to be of a significant burden. Today, major airlines are disrupted to an alarming level; and restaurants, entertainment venues, wellness facilities, event spaces, and other hospitality-related providers are at the risk of sinking below water levels.
Focusing on hotels in the GCC, at least 29 percent of hotels have fully closed down since March 2020 and the majority of the remaining hotels are operating with single-digit occupancy. When and how many of these hotels will re-open is yet to be assessed as the cost of reopening coupled with expected low number of guests until the end of 2020 may deter many owners from re-opening immediately or in the near future.
Graph: Current operational status of the hotels(s) (below)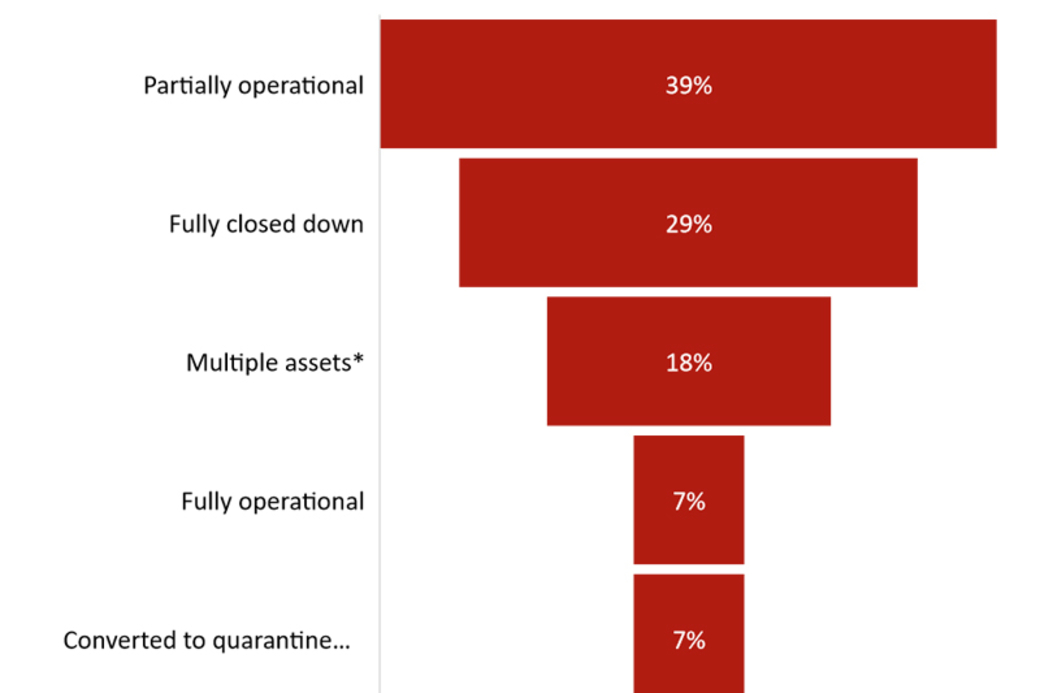 Source: HVS
Currently, hotels that are operational have restricted the number of available rooms in order to comply with the health and safety regulations and meeting space and spa facilities at hotels remain closed. While governments have supported this sector by using hotels for quarantine purposes or provided some stimulus relief packages; more tangible and drastic measures are required in order to minimise the financial burden and support hotels to remain open.
Only 25 percent of hotel owners reported that they have the ability to meet their liabilities for more than six months, while only 7 percent are unable to meet their liabilities for one month. Whether hotels remain open or make the hard decision to close, the challenges that lie ahead for owners are immense and owners are left wondering whether the current situation will result in a delayed cash ow or permanent loss leading to foreclosures, bankruptcy, bank repossessions etc. Owners will therefore have difficult conversations with lenders and operators in order to reduce the financial burden and ensure business continuity.
Graph: Time period that hotels will be able to meet liabilities if the current situation persists (below)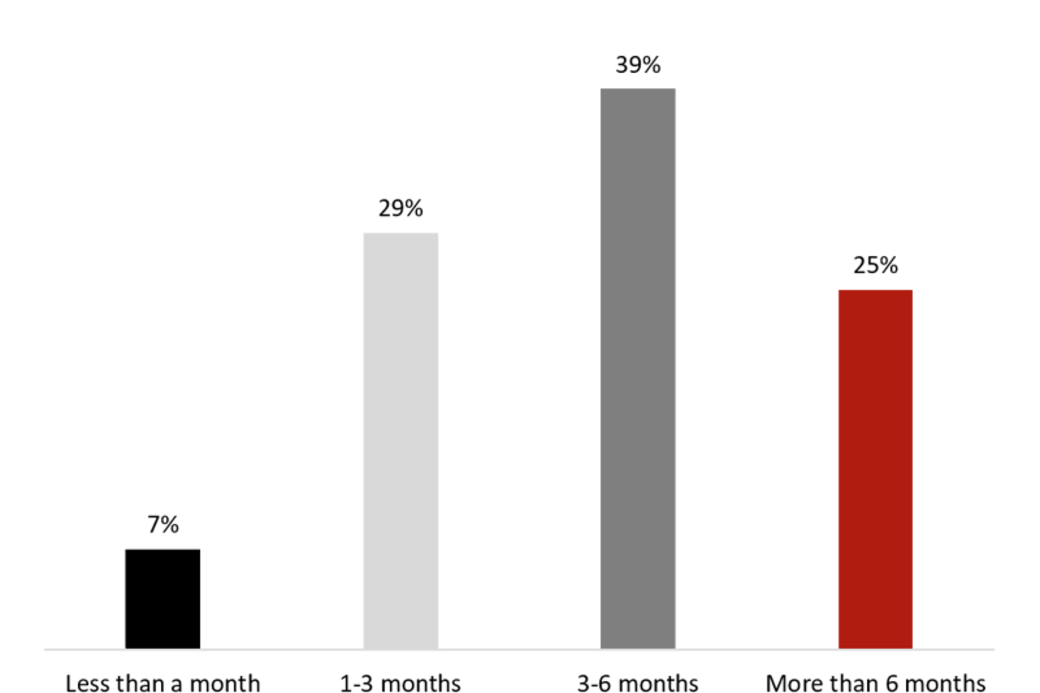 Source: HVS
Although some hotels have benefited from inversion to quarantine facilities and others became staycation destinations, there is a consensus among the hotel owners that recovery will take time to rebound. 78 percent of hotel owners consider that recovery will take at least 12 months or longer.
Some hotels may experience high demand in the next couple of months on the back of revenge hotel bookings or taking advantage of the summer break, however hotels' EBITDA will require at least 24 months to stabilise at pre-pandemic levels or potentially longer.
Declining RevPAR's over the last couple of years in the GCC region as a result of oversupply and increasing operating costs, resulted in 30 percent decline in hotel values between 2008 and 2018 across the region. Due to the current events, current hotel values will remain approximately 23 percent to 30 percent lower than 2019 until a recovery is re-established. It is therefore imperative to re-examine the traditional management companies operating model and determine ways to streamline operations and implement appropriate cost measures practices.
Graph: Current drop in hotel values (below)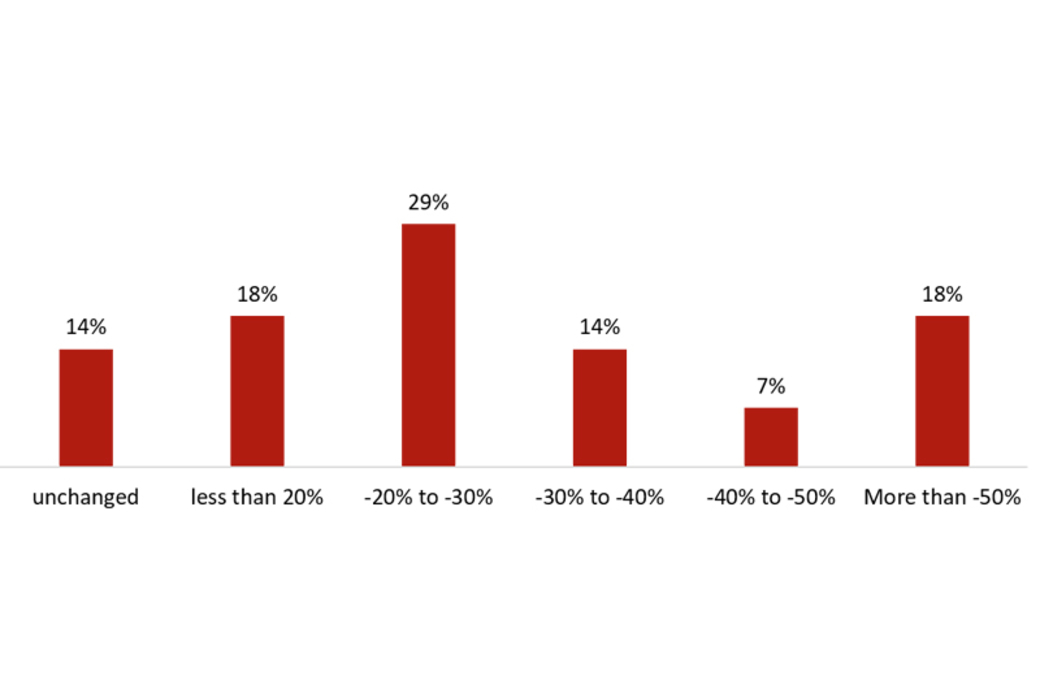 Source: HVS
Finally, as these times are unprecedented, it is reasonable to assume that a more cautious approach will be taken by hotel owners and investors in evaluating their investment strategy and operating strategy. The majority (68 percent) of investors are looking to hold their assets and 64 percemt have specified three investment markets in Saudi Arabia: Riyadh, Jeddah and Makkah.
Although only 4% of hotel owners are currently looking to sell their assets, the next 12 to 18 months will present opportunities for acquisitions as some will look to exit their investments and minimise their losses.
And, despite all the current challenges, there remains some attractive investment opportunities with 39 percent of investors likely to invest in budget and limited-service hotels (68 percent combined) and 36 percent will invest into serviced apartments. The last few years has seen a rise in the number of budget and limited-service hotels which have outperformed other asset classes.
Graph: Asset class(es) that investors are more likely to buy or develop (below)


Source: HVS
At HVS we remain confident that there is significant tourism potential in our region. With this in mind, we look forward to travelling again and working with all stakeholders to develop a more robust and sustainable tourism offering in the coming months.
Note: HVS Hotel Owner and Investor sample represents 206 branded hotels and approximately 65,000 hotel rooms across the following countries: Bahrain, UAE, Saudi Arabia, Kuwait and Oman.