ME Dubai: Inside the Box
Conceptualised inside and out by the late British Iraqi architect, Dame Zaha Hadid, ME Dubai opened its doors last month after a four-year pre-opening period. Claudia de Brito sat down with general manager Stefan Viard
The term 'highly anticipated' gets used quite a lot but The Opus by Omniyat building has been creating a buzz since its cubelike structure started taking shape in Dubai's Bsiness Bay district several years ago. Designed by the late Dame Zaha Hadid, who also designed the interiors, the structure comprises two towers separated by a curving eight-storey void. Greeted by Hadid's angular aesthetic upon entering the building, Hotelier Middle East sat down with the property's general manager, Stefan Viard.
A German/French national, Viard got into hospitality when he was at school: "I worked the weekends in banqueting in Cologne in quite a big hotel and I started to like it. I thought, you know what, that's actually something I really like to do. So once I was done with my education, I thought, okay, I will try my luck in hospitality and I started with a traditional apprenticeship in Germany.
"I worked at that time for Hyatt hotels and got the opportunity from there to move to Hamburg then to Paris where I was made banqueting manager."
The opportunity to come to the Middle East came from a familiar face: "It's a very, very small world, the hospitality world. My previous boss called and asked if I would be interested to go to Dubai to work at Madinat Jumeriah. That was in 2003. I didn't even know where to Dubai was at the time so I had to look it up. I did a bit of research and knew I had to be part of it."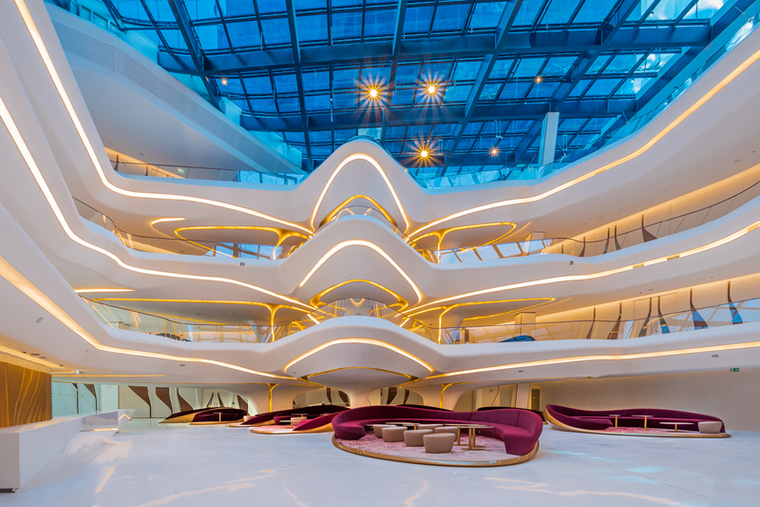 The atrium
Interestingly, Hotelier Middle East had a hand in Viard's move to his current role: "I attended a GM conference (I actually think it was hosted by this magazine) and they presented all the new upcoming hotels in Dubai. And I saw this cube with the hole inside and I thought it sounded interesting. Suddenly, I was contacted about the role. When I got to know more details about this amazing project, I was completely hooked, and here I am."
Still, things didn't quite happen overnight: "I think it's going to be difficult to beat me in terms of length of preopening phase. On the first of March 2020, I completed four years on this project, so it has been quite a journey.
"Things might have not gone to plan but that came with its advantages: "It was an amazing opportunity to be involved at such an early stage. Usually a GM is only appointed one year prior to the opening. I think if you would have asked four years ago, with that hotel open four years later, then most probably I wouldn't have joined then. Obviously, we had a few hurdles to overcome. But it was an amazing experience because from an owning company side, they were interested to get feedback from a hotelier to make sure that this building, which was initially not designed as a hotel, was going to be a functional hotel. So there were a lot of opportunities to give my input and, as a team, we made this this happen."
Viard explains that the building was shell and core when he joined: "They had just started to install the glass in the foyer. So, we had to really look at how to manage the back-of-house flows, then develop an F&B strategy. We have space for 15 outlets. We had and still have very high expectations for the offering so we had to approach the right operators as well as the right brands and the right concepts that work well together."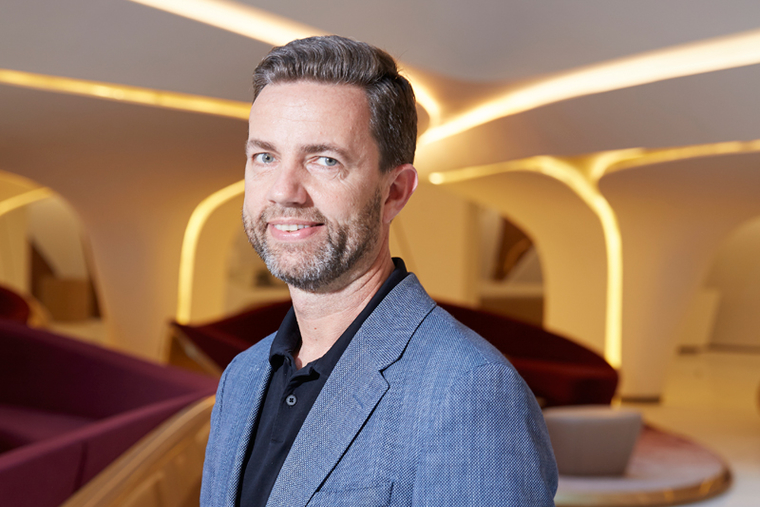 Stefan Viard
The in-house F&B outlets — Central, Opus Studio and Relax & Refuel, are overseen by executive chef James Knight-Pacheco. The property also houses homegrown concept The Maine Land Brasserie and London import Roka, by Zuma founder Rainer Becker.
Compatibility also had to be taken into account when selecting the right design partners to bring on board. Viard explains: "We worked with the various design teams from Zaha Hadid Architects and Zaha Hadid Design. We also had HBA Architecture as local architects on board. From the fabrics to the finishes to the location of the light switches, I could go on and on. It was really a very interesting journey. And then I had to do what I normally would be doing which is snagging and taking over the space and to selling those rooms to guests."
Due to the lengthy pre-opening period, Viard was able to be involved in processes and decisions, which normally wouldn't fall under his remit: "I don't see myself as a consultant, I'm an operator. So obviously, my key objective is to run a hotel, to have a team to have guests and have these operational challenges. But on the other hand it's a big advantage to know the whole history of the building, to know the processes, to understand why certain things have been done the way they have. When you work with architects, you need to find the balance between functionality and design. Sometimes design supersedes functionality but in certain aspects you cannot compromise, otherwise it's going to be an operational nightmare."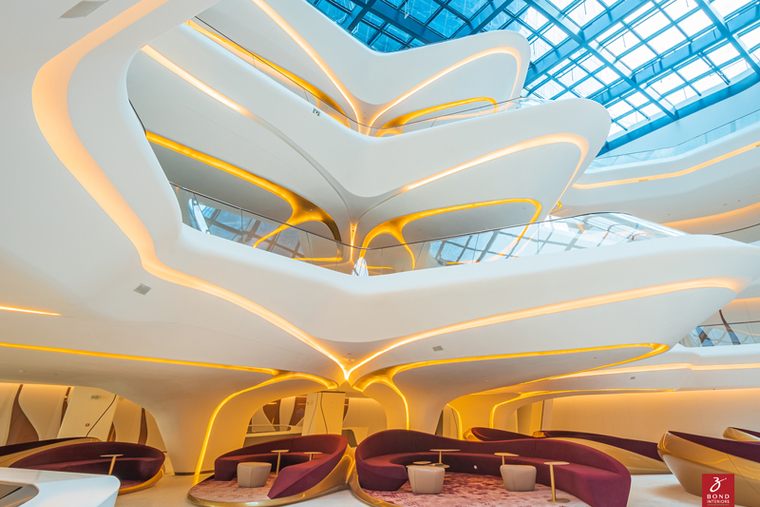 Both the structure and the furniture were designed by Zaha Hadid
Viard also faced some challenges in terms of managing financial expectations: "If I had come from another property and had just started straight away, my expectations maybe would have been different in terms of how to manage pre-opening budgets and budgets overall, because it has been very challenging. You have to be a realistic on what you can ask from owners because in the end, someone has to pay for all of this. We had to be humble and think from that aspect as well. I was always very welcomed by the owning company and it was really a family. Between Omniat and Meliá International, we managed to really work there very well together. You have to have these two hats — sometimes it's the Omniyat hat and sometimes it's the Meliá hat. Now it's more the Meliá hat because now it's a hotel. It is in our hands and now we have to deliver."
Viard's operational priority as the GM is to ensure that the various teams are working properly together and that all of the internal and external processes are working: "If the team is happy, our guests are going to be happy and we'll create a good buzz. That is now my main objective. You'll see me running around a lot. Just three days ago I managed to do 13 kilometres in the building. It's actually good. I don't need to go to the gym.
"It's about being with the team. We need to spend time with all our guys on the floor. See what questions they're asking and challenge them with questions but also be there for them to support because I think that is the key no matter what."
On his leadership style he says: "I'm definitely not a micromanager. I really believe in giving opportunities to all the team members. I trust them. Whoever is here has been as well interviewed by me. That's from a room attendant, which is a crucial role, up to department heads or directors. It was very important, because we have such a small team, to make sure that they fit with the existing team and into the vision we have. I believe in empowerment. I don't have a solution for everything. I'm here to guide them. If there are issues I always ask them to give me a proposal and then say okay that sounds good go ahead or why don't you do this? I think I'm quite an open-minded person, even though now I'm here, I realised that I'm the third oldest person in the project.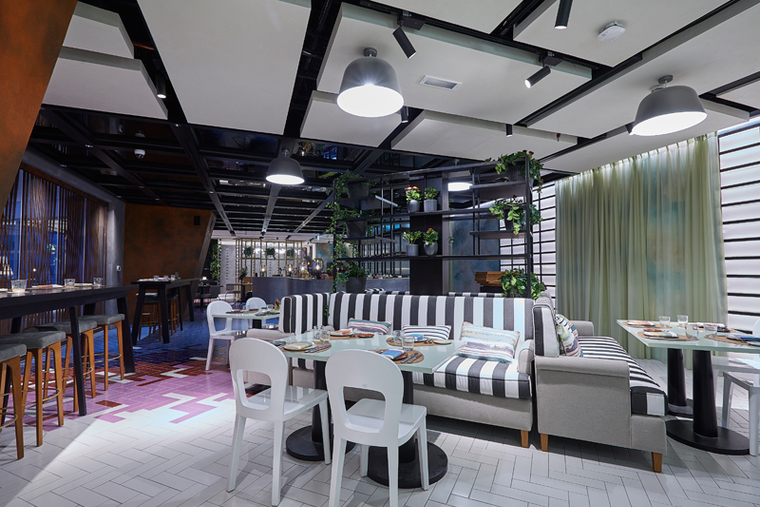 Central is one of the property's three in-house F&B concepts
The team at ME Dubai is, in fact, small with just 105 people on staff, but according to Viard: "You need the right people, not a lot of people. Sometimes less is more. Ramadan is coming, and summer is coming. We have aggressive but realistic projections. Occupancy levels are not going to be three digits. We know that and it's not our strategy. But we thought, okay, let's start with less if the business is picking up, which hopefully it will, then it's always easier to bring people on board. We're being conservative."
In terms of the property's competitive set, there are a few in close proximity: "We see ourselves in the range of Four Seasons DIFC in terms of the amount of guest rooms, room sizes and business mix. Armani from a lifestyle perspective, design of course an iconic building. Then we have Emaar Hospitality as well, the Address Downtown is perceived as being one of the best hotels in downtown.
The rooms are striking but they aren't exactly child friendly. Viard pinpoints the property's target customer: "The urban traveller, for sure. I think we are in an interesting destination, Business Bay, Burj Khalifa District. We have seen big progress here in positioning and uplifting the area. Accessibility is now much better. Due to the product that we have, we would not really say that we are a family hotel, we don't have a kids' club, so we know exactly who we should or shouldn't cater to.
Instead, the property has other extras that would appeal to its target clientele: "Our aura manager is Francesc Costa from ME, Milan. He's here to make sure that we're on brand in terms of communication with the guests, entertainment, music and events. We have cultural programmes where we'll link up with local entertainers, artists, fashion designers to create content. This also includes personalised service. I would not call it a butler service because that's quite old fashioned, but it's very similar. For any suite guest, the aura team will take over the entire reservation process and deal with the guest directly to find out their preferences and to make their stay quite unique."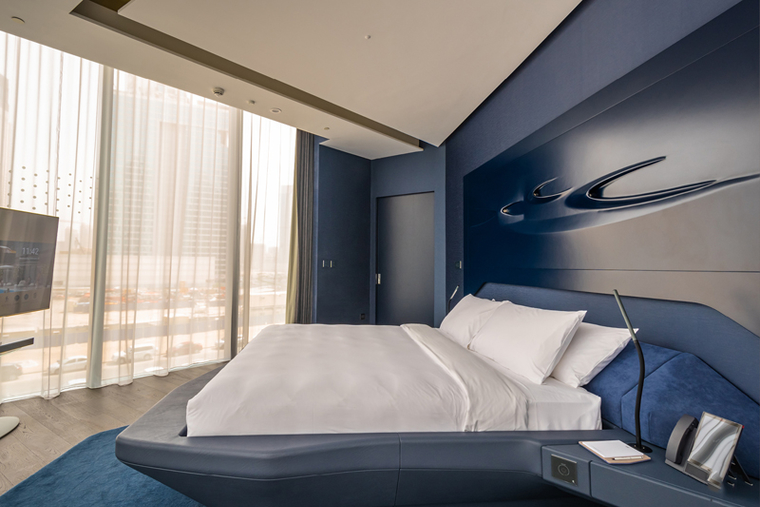 The rooms come in a dark blue or sandy beige colour palette
In terms of sustainability, the property adheres closely to Meliá Hotels International initiatives. This means that across there aren't any plastic bottles in guest rooms and here is a concerted effort to reduce the use of plastic in all areas. Viard said: "I think we are 99.9% there. We use technology to save energy. So we have motion sensors everywhere so the lights switch off, the A/C is adjusted and the curtains close. Then from a back-of-house perspective, we have some composters and we don't have a buffet. We have a continental breakfast setup and the hot food is made to order. Reducing food waste is very important to us."
Speaking about Dubai's hospitality sector, Viard said: "What we have seen over the past couple of years is a good evolution overall. I mean, you've seen more mid-market hotels coming to open in Dubai, not only as this super expensive luxury destination, I think it's important to make it a bit more affordable, a bit more interesting and relevant to what's actually happening everywhere else. I think that's really good. Now, if I was opening a normal Dubai hotel with 500 rooms, I would be nervous. But I think that is one of the unique selling points we have is that we have 93 rooms. This is something super-brave because there was some cost related to designing this building."
But, you know, I think Expo 2020 will put us on the cultural map. Dubai has more to offer than shopping and the beach. So I'm quite excited about it. I think we will see a positive impact from people who were not necessarily looking to come to Dubai, but now they can combine Expo plus visiting a new destination. I think for the GCC, it's amazing."
ME Dubai marks the brand's debut in the region, with another ME property to follow at the end of next year. According to Viard: "It's a huge milestone. Dubai is a hub and to have a ME here, in this building is something really special but there's also a lot of pressure."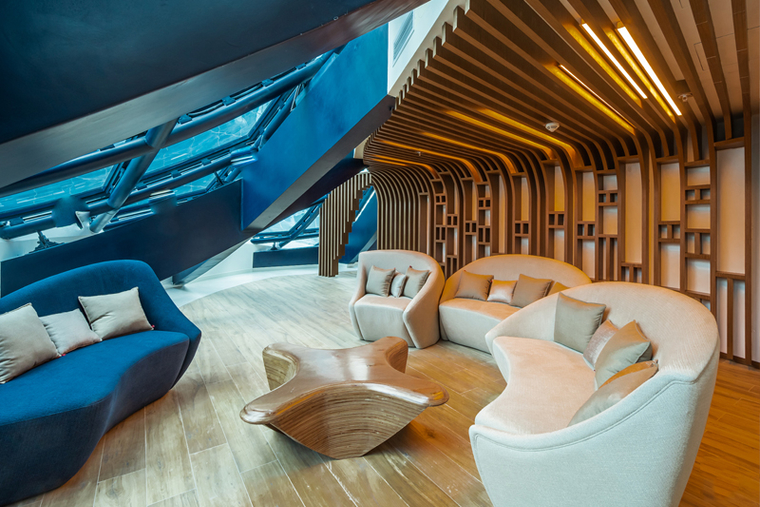 The ME Spa
It's no secret that Dubai is a competitive market at the best of times and, since we sat down, hospitality markets all over the world have been heavily impacted by the COVID-19 pandemic. Still, when the time for recovery comes, Viard pointed out a few aspects that will make the hotel appeal to guests: "One thing is that it's already an iconic building, the key count of only 93 rooms is as well as something which is really different and special and finally then it's going to be our service. The team that we have recruited. We have some really nice characters that will make us stand out."
Key partners
Architect of Record: Astbury Shepherd Gilmour (ASG)
Client's Project Management: Mirage Leisure and Development
MEP Consultant: Clarke Samadhin Associates
Interior Design Consultants: HBA - Hirsch Bedner Associates, Bluehaus Group & Bishop Design