Artisans: Mastering Time & Design
The youngest cellar master ever appointed by the house of Rémy Martin, Baptiste Loiseau is tasked with preserving the house's legacy while preparing it for the future.
Born in Charente, a small town near Cognac, Baptiste Loiseau grew up surrounded by vineyards and winegrowers. It was there that he discovered his love for the world of the soil and wine. He says: "When I was little, I spent a lot of time with my maternal grandparents, who were gardeners. I went to the presses to taste the grape juice and I remember the grape harvests."
Given his passion for nature and cognac, it was natural that both of these things would become an integral part of his career. He explains: "I was lucky to be chosen by the previous cellar master, Pierrette Trichet, and by Madame Dominique Hériard Dubreuil, chairman of Rémy Martin at the time. It was in the role of experimental engineer that I joined the House of Rémy Martin in 2007. I immediately became a member of the Tasting Committee, first as an apprentice and then as an expert. As I often say, I matured at the House of Rémy Martin. Alongside Pierrette Trichet, I learned to taste, select and blend with a rare finesse that only a real cellar master can feel and achieve. I was finally appointed deputy cellar master in 2011 and cellar master in the spring of 2014."
Speaking about his role at the historic House, Loiseau explains: "As a cellar master of the House of Rémy Martin, I have to take care of Rémy Martin products but also Louis XIII. My vision for Louis XIII was and remains the same, to think a century ahead. I will never see the result of my work. It's the way we work for Loius XIII. But it's a continuous evolution as I have to consider the diversity each year and preserve the consistency, as well as creating and innovating. I consider myself a guardian of time. I have to constantly preserve the past and prepare for the future using precious elements from the present."
Loiseau belongs to an exclusive club of Rémy Martin cellar masters. The highly specialised profession requires years of training and practical experience. Loiseau credits his mentor and former cellar master Pierrette Trichet: "Pierrette taught me to taste the new eaux-de-vie, to recognise the Louis XIII style and to always demand the highest possible quality from every stage of the cognac-making process. She gave me a clearer vision of the ageing process and the confidence to take on the role as cellar master.
"Pierrette often told me that I am real enthusiast, with everything that brings with it in terms of passion and commitment and I've always wanted to keep my own identity. The most important lesson, she instilled in me was: 'work for excellence. Always be demanding.'"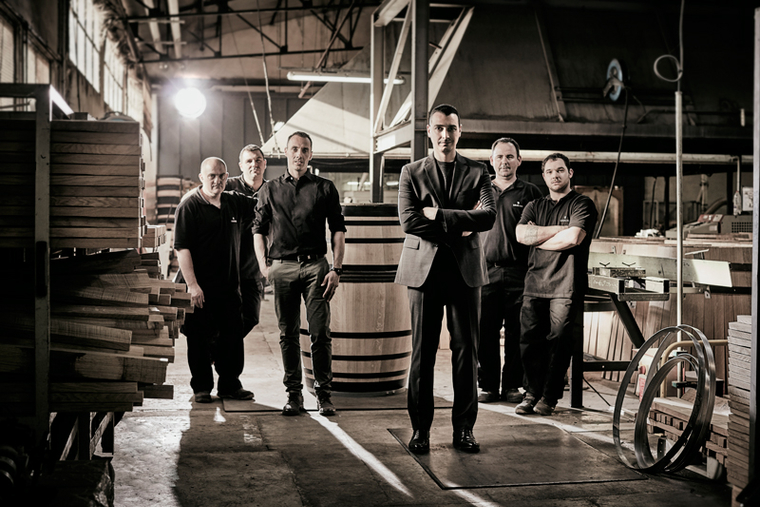 Loiseau and the team responsible for making the tierçons
Tierçons, the centennial casks used to store the Grande Champagne eauxde-vie set aside for Louis XIII,  play a critical role in the aromatic development of Louis XIII cognac but in order to repair a tierçon, another must be sacrificed. Loiseau's commitment to the preservation and continuation of Louis XIII led him to have tierçons made from scratch for the first time in 100 years. He explains: "Thinking a century ahead is one of the privileges of being the cellar master for Louis XIII. It requires the perfect combination of tradition and innovation. Everything that has been transmitted by previous cellar masters has be combined and explained to the new generation that I am part of. The heritage relies on the consistency and the style of Louis XIII, while we also have new ideas, creations and projects including our new limited edition Time Collection tribute to the City of light 1900 or remaking tierçons."
Loiseau detailed the importance of reviving the craft of tierçon-making: "The latest tierçons were created in 1917. But because they are so fragile, and to ensure my successors get tierçons for centuries to come, we have decided to make them again, 100 years after they were last made. We began studying our archives to find records of artisanal tierçon production methods in 2012, and our work went on for over a year-and-a-half. Once we had all the information we needed, we decided to embark on this incredible adventure, spurred on by the enthusiasm of our cellar master at that time, Pierrette Trichet and myself. After years of research, testing, and prototypes, the first tierçons were produced in March 2017 in collaboration with the Seguin Moreau cooperage. 2019 marks the third season that we have produced around 15 tierçons in accordance with these traditional methods."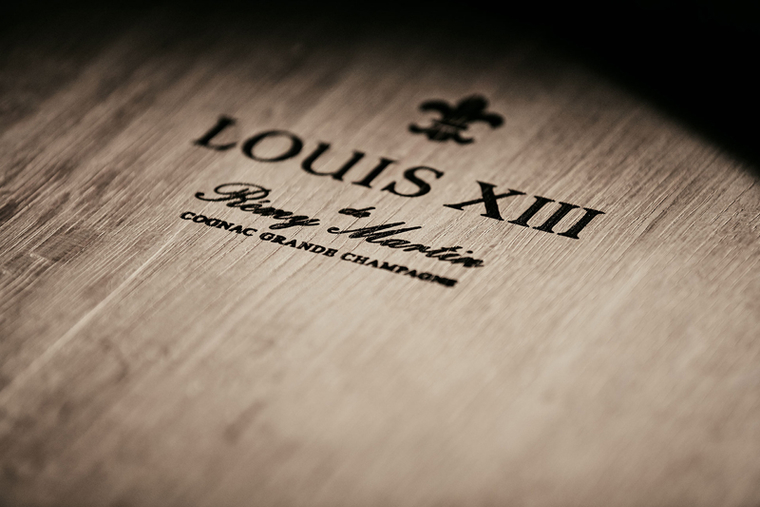 Each tierçon carries the stamp of Louis XIII
In order for this to happen, several specialists had to come together to share their knowledge, skills and respect for natural resources. They include the forest wardens of the National Forests Office; foresters responsible for selecting the most beautiful specimens in the Limousin forest, felling the oak trees and making the oak staves; the coopers, who produce the new tierçons; hoop-makers who work with chestnut wood and the Rémy Martin coopers who maintain and care for the House's barrel collection. Loiseau says: "We have always worked with these partners, and the project we are talking about is a further realisation of that partnership. In terms of creating new tierçons, we started working with them about seven years ago. If I had to use a comparison, this might be the Haute Couture of the barrel-making."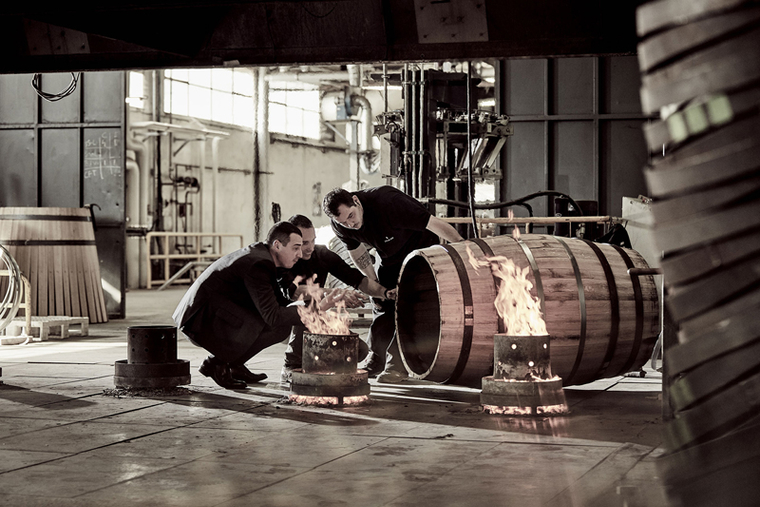 The coopers at work, using traditional methods
He explains the difference between classic casks and tierçons and why this project is so important: "A tierçon is a large wooden cask that can hold between 520 and 580 litres of liquid, compared to 350 litres for a conventional barrel. The sizes of the two containers are obviously different: a tierçon is tall and majestic at between 1.3m and 1.35m in height, which gives it a long slender shape, whereas a 350-litre barrel stands at just 1.05m. Moreover, our tierçons have fi ne staves (compared to classic barrels) which allows the delicate exchange between the eaux-de-vie, the wood and the air outside. This is an important detail that plays a critical role in the aromatic development of a Louis XIII cognac."
Design is also an important part of the vessel where the finished product is housed: "The carafe with the rounded lines symbolises Louis XIII and reveals a legend that crosses centuries without unveiling its mystery. It is said that this bottle was acquired in 1850 by PaulÉmile Rémy Martin I, from a peasant who supposedly found it on the site of the battle of Jarnac in 1569, which pitted the duke of Anjou against the prince of Condé.
The Louis XIII carafe, which since 1874 has encased amber in the light of crystal, has become an icon in the four corners of the world. Each piece, in the style of an Haute Couture creation, is numbered and hand blown, requiring the successive skills of eleven exceptional craftsmen. Richly decorated with fleurs-de-lys, the carafe reveals and enhances the precious elixir that it contains."
Thinking a century ahead means that Loiseau will never see his work come to fruition. In a time where we have become accustomed to placing a lot of value on instant gratification, this might frustrate some people. Not Loiseau: "Each cellar master knows, when we take over the position, that we will not taste the fruit of our labour. We are a link in a precious chain, receiving the legacy from our predecessor and passing on the baton to a new generation that links past, present and future. It is this legacy that makes Louis XIII so unique and I am proud to be a part of this amazing journey that few people can experience."
Reflecting on why he believes Louis XIII has become synonymous with celebrations and marking important moments, Loiseau says: "Created in 1874 by Paul-Émile Rémy Martin as a blend of his oldest and most precious eaux-de-vie, the inimitable style of Louis XIII has stayed constant to this day, honouring his act of genius. It is due to this legacy that Louis XIII is present in all of life's celebrations and has been used to toast to memorable moments in time."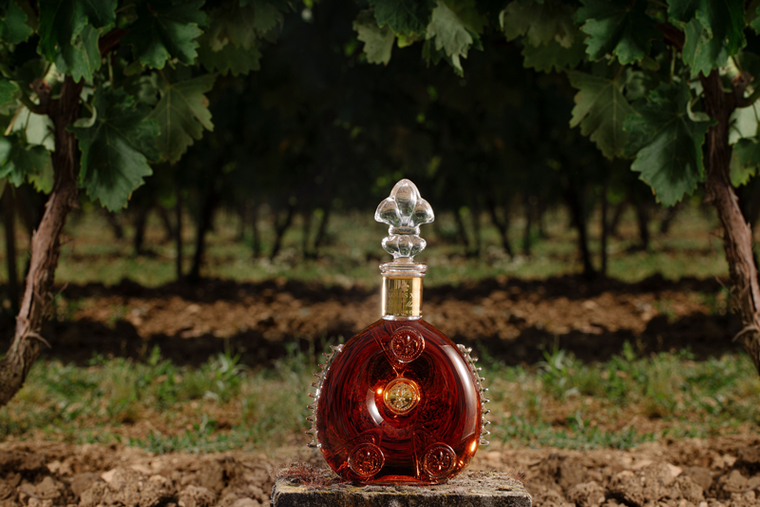 Louis XIII