The Perfect Fit(out)
Tom Gilmartin speaks to Hotelier Middle East
Hotelier Middle East caught up with Alec Fitout development manager Tom Gilmartin to talk about the recently completed Waldorf Astoria DIFC project, the importance of value engineering and the exciting projects the company has coming up
Tell us about your company
Alec Fitout is a part of the AlecGroup. Established in 2009, we specialise in the fi t out and refurbishment of 5 star hotel and resorts, cultural, immersive and luxury mixed-use developments in the MENA region. With 200 staff and over 500 labour, we consistently deliver high quality fi t out and refurbishment solutions at a cost-effective budget by value engineering.
What are the core services you offer to the hospitality industry?
Alec Fitout core services are the fit out and refurbishment of luxury, large scale hotels and resorts where our scope can include fit out, FF&E, AV Technology as well as MEP and Civil works if required. We can deliver traditionally, with an approved design by client or design build to target budget.
Tell us about a recent hospitality client you worked with.
Our team recently completed the Waldorf Astoria DIFC project. The luxury hotel includes 275 luxury guestrooms, suites and branded apartments, a wellness spa, diverse restaurants and lounges with indoor/outdoor dining options and flexible, creative meeting spaces including a library with open kitchen. Covering over 35,000m2 our scope included fi t out, MEP, FF&E, kitchen equipment, AV, structural and façade reworking. A complete fi t-out solution!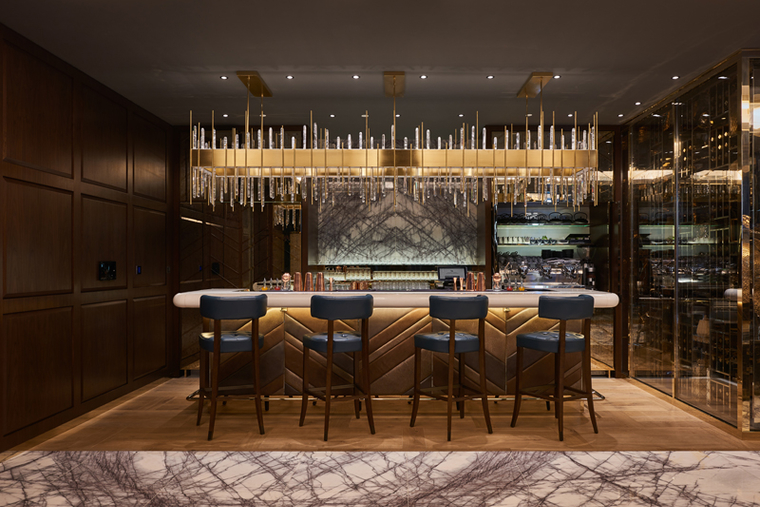 Bull & Bear
Did this project present any challenges? If so, how did you overcome them?
All projects present challenges which are typically overcome by our experienced team working closely with the client and consultant teams. The FF&E package with over 13,000 items was a logistical challenge to successfully coordinate, fabricate and install. Our commitment to deliver a luxury project to an agreed target budget through the use of alternative finishes and materials challenged our design, operational and procurement teams to propose solutions that maintained design intent and performance whilst meeting aggressive budget targets.
What is the difference between cutting costs and value engineering?
Value Engineering, when executed correctly, provides the client with alternative finishes that maintain the design intent and performance whilst saving on budget. Cost cutting is replacing finishes with inferior products or eliminating design features in order to reduce costs. We offer value engineering on all our projects and have considerable experience matching design intent and performance for cost effective budgets.
What are three things that set you apart from your competitors?
Alec Fitout consistently deliver large scale luxury, high quality fit out and refurbishment solutions at a cost effective budget by value engineering. Our attention to detail and focus on coordination is highly appreciated by our clientele. Finally, our proactive approach and transparent communication ensures all stakeholders are aligned for project success.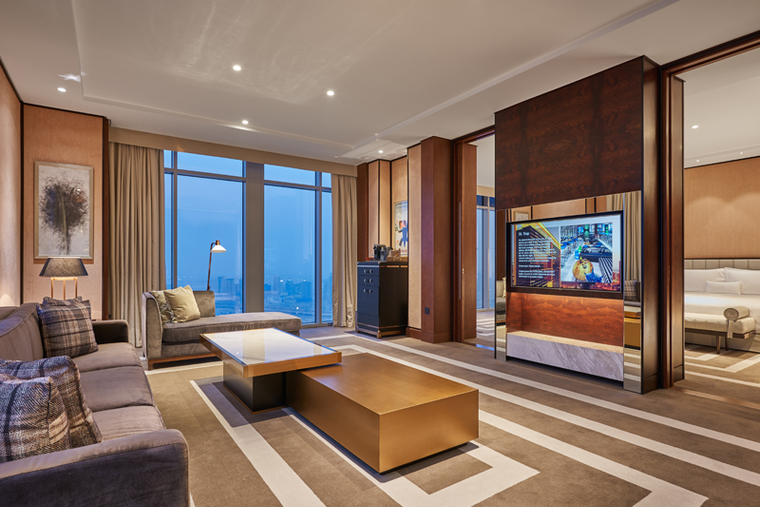 One of One of Waldorf Astoria DIFC's spacious suites
What is the biggest advantage of operating in this region?
The MENA region has a pipeline of over 100,000 rooms to be completed by 2023 — there is a significant demand for luxury hotels — which is perfectly aligned with the Alec Fitout offering as our core business is fi t-out of 5-star hotels and resorts. We are very excited by the ambitious plans in KSA, a market we are actively tracking.
Do you have any upcoming hospitality projects you can tell us about?
We have recently been awarded the fit out package for all guestrooms and suites at the new Mandarin Oriental, Wasl Tower in Dubai. We are busy completing a major fit out package at the Iconic Skyviews Tower by Emaar operated Address including Hotel, Serviced Apartments and also the "Sky Collection" – luxury apartments above the Bridge Deck. In Dubai Marina, our team is completing another luxury residential project, Marina Gate, for Select Group. Jumeirah Living shall operate the serviced apartment element of Tower 3.
Contact – Tom Gilmartin, Business Development Manager, E: tgilmartin@alec.ae, W: www.alecfi tout.ae.