Market Update: Egypt
By end of 2019, Egypt had welcomed 13 million visitors and achieved a new record in tourism revenues amounting to $12.6 billion. Claudia de Brito takes a closer look at this resurgent market
According to the World Travel &Tourism Council (WTTC), travel and tourism in Egypt grew by 16.5% in 2018 — significantly ahead of the global average of 3.9%. Egypt's continued robust performance over the past year was led by continuous efforts being made to improve safety, security and tourists' overall experience as well as the ministry of tourism's initiatives including global marketing campaigns and setting out new tourism regulations across the country. The Ministry of Tourism and Ministry of Antiquities also consolidated their agendas and officially merged into one body. The move is hoped to result in all of the tourism sector's participants taking a more integrated approach to maximising the value of Egypt's offering. In addition, since the UK lifted its ban on Sharm El Sheikh in late October, after a nearly four-year suspension of flights to the destination, several operators have re-introduced the city to its programmes, which is set to boost tourist arrivals to the country.
Performance
According to Colliers International manager hotels (MENA region) Ahmad Yousry, Egypt's hospitality market performed well throughout 2019. He says: "The hospitality sector is expected to continue on its strong growth trajectory through 2020, backed by the resumption of the UK direct flights to coastal cities. Looking at four key cities (Cairo, Alexandria, Sharm El Shiekh and Hurghada), in 2019 Egypt's hospitality market has achieved an overall occupancy equating to 69% vs 67% for the previous year, representing a YOY change of 2 percentage points. As for ADR, the market has achieved an average daily rate of EGP 1,290 signifying a growth of 4% versus 2018."
Hilton vice president of operations for Egypt & North Africa Mohab Ghali also weighed in on the country's performance saying: "According to official reports by STR, Egypt's RevPAR grew by about 13% in 2019 compared to 2018, while the overall occupancy increased by 6.5% over the same period. STR reports also indicate that Egypt's ADR recorded an increase of 6.2% in 2019, compared to the previous year."
Hyatt regional vice president of development, Middle East and North Africa Ludwig Bouldoukian says: "The hotel sector has witnessed its highest performance since 2008. Occupancy levels were reported at 73% in year-to-August 2019, while during the festive season, resorts at the Red Seas Governorate — which is home to 278 hotels and resorts — have occupancy rates increased to 90%."
Fort Arabesque Resort, Spa & Villas managing director Jean-Marc Kabalan echoes this outlook though challenges remain: "Both occupancy and ADR have picked up nicely. This is especially true for certain destinations within Egypt that had been more negatively impacted by past perceptions of unrest. Conversely, the EGP has been rapidly strengthening, cutting into USD-based revenue, while high inflation and sharp increases in utility costs are beginning to eat into GOP margins."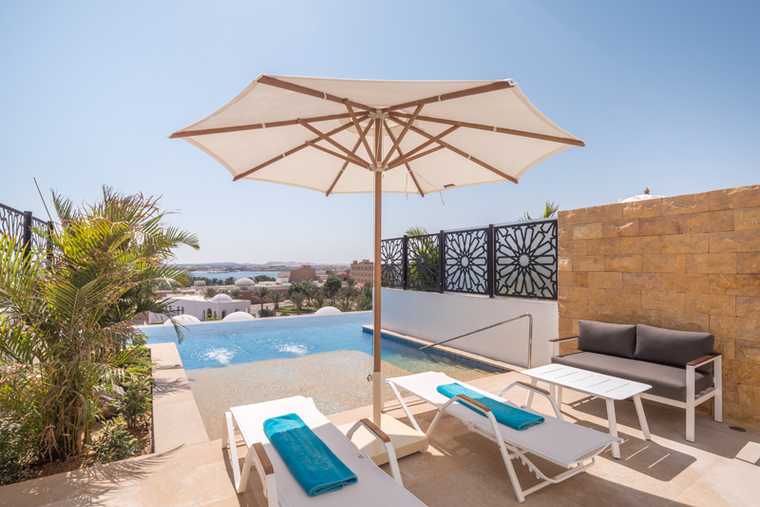 Above: Fort Arabesque Resort
Pipeline
Kabalan has plenty to look forward to at his Hurghada-based property: "We recently opened the last phase of our villa concept, which is essentially a boutique development within the Fort Arabesque Resort. The new villas have sweeping views of the bay and offer all of the luxury and comfort that you would find at the best five-star resorts around the world. The villas offer an 'affordable luxury' proposition for the all-inclusive market.
"We are also working on a new 130 room property. It's a brand new concept that will target younger travellers that are looking for modern facilities with interesting design features, and that want to experience genuine contemporary Egyptian culture and activities. This is in line with our strategy to offer tremendous value while parting ways with the traditional 'no-thrills' basic experience that can detract from all-inclusive resorts."
Radisson Hotel Group currently operates three hotels in the country, all under Radisson Blu. Radisson Hotel Group senior area vice president Middle East & Africa Tim Cordon says: "We have one hotel in Cairo, one hotel in Alexandria and one hotel in El Qseir on the Red Sea. We expect to open during 2020 our first serviced apartments offering in the Capital along with the introduction of the first branded Radisson hotel. Both properties will represent a combined additional 300 rooms which will further translate our strategy in creating city scale and offer clustering efficiencies.
"By 2022, we expect to launch our first Radisson Collection in Cairo but also enter new leisure destinations such as Ain Sokhna or Makadi Bay."
Last year the hospitality group announced a strategic transaction in Egypt with six new hotels under construction. With five hotels in the capital and another four hotels between Alexandria and the Red Sea, the Group has nine hotels and 3,000 rooms across the country under development and in operation.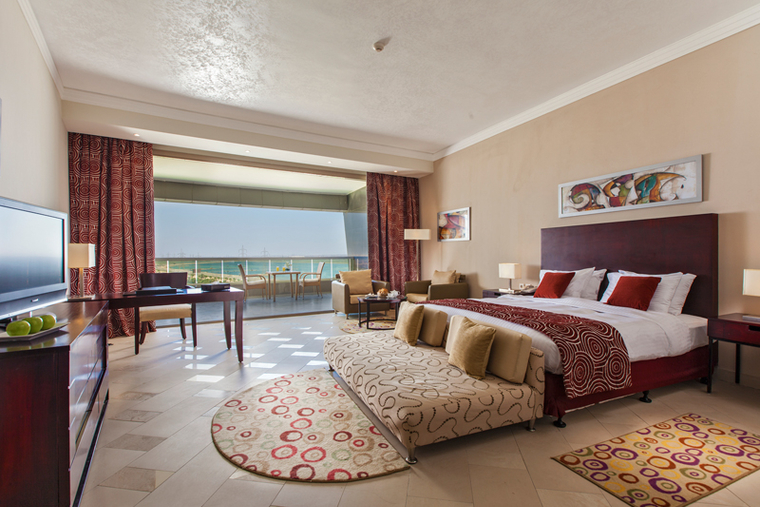 Above: Radisson Blu Hotel, Alexandria
Hilton currently manages 16 hotels and resorts in Egypt under the Hilton Hotels & Resorts and Conrad Hotels & Resorts brands. Ghali adds: "We have eight hotels in the pipeline and expect these to be opened within the next five years. We are bringing in new brands including DoubleTree by Hilton and Hilton Garden Inn, as well as entering new areas locally."
Bouldoukian says: "The hotel sector has witnessed many achievements: with its current capacity of 205,000 rooms, there are 100,000 additional rooms currently under construction in the country, of which 8,000 are expected to be completed by Q1 2020.
"As west Cairo gears up to become the tourist hub of the capital, we are delighted to be working together with ALDAU Development, a member of Sami Saad Holding Group, to bring Hyatt Regency Cairo West to life. The Group has a complex understanding of the market and a proven track record of establishing the best in class hotels across the last 12 years. This, coupled with Hyatt's expertise in property management, exceptional guest service standards and market knowledge will allow us to reinvigorate the capital's hospitality offering."
The five-star Hyatt Regency Cairo West hotel will be located in Cairo's cultural district, inside Pyramids Heights near the Grand Egyptian Museum, the Great Pyramids of Giza and the newly inaugurated Sphinx International Airport.  It will provide guests with easy access to the capital's various historical landmarks and treasures, local souks, shopping malls and entertainment facilities. In addition, the 242-room Hyatt Regency Cairo West is expected to open in Q4 2020 and will employ a large percentage of local staff members, aiding to further boost the strong recovery of the Egyptian travel sector.
IHG vice president development – Middle East & Africa Matthew Tripolone says: "In order to meet changing traveller needs, we have expanded our portfolio in Egypt with the debut of our upscale brand, Voco, with the signing of Voco Giza Pyramids, which is due to open in 2023. Voco caters to guests looking for a unique, independent experience with the familiarity of a large hotel chain, and has received notable success in the region to date."
IHG will also debut the Crowne Plaza brand with the opening of Crowne Plaza West Cairo – Arkan and will expand its presence in the midscale segment with Holiday Inn Giza Sun Capital and Staybridge Suites Giza Sun Capital, in partnership with Arabia Hotels, a subsidiary of Arabia Holding. The properties will be part of Sun Capital, a mixed-use project that will include the largest commercial area in Egypt, a luxury commercial mall - the first outlet mall in Africa, an Egyptian cultural themed park, an international university and an international school.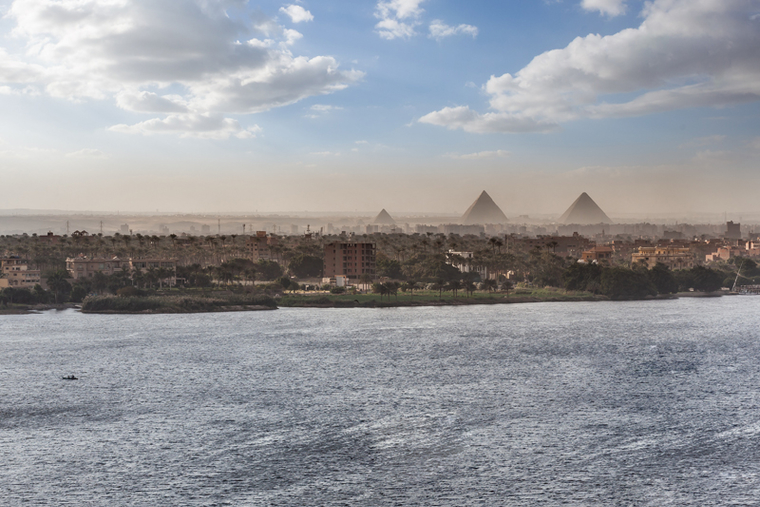 Above: Holiday Inn Cairo
Trends
Colliers has observed demand for new hospitality products backed by young travellers seeking excitement and adventure, with the focus on new experiences. An example of such products is the opening of two new of modern lifestyle hotels in the North Coast namely the G hotel comprising 182 keys and Mazeej Hotel comprising 42 keys. Their data also points to a strong performance in the overall KPIs for the coastal cities including Sharm El Sheikh and Hurghada with an increase of 13% and 11% respectively. This increase is led by the socioeconomic stability across the country, in addition to security enhancements.
Ghali notes that the market is becoming more segmented, saying:" The sector is expanding into new types of tourism such as medical, health and wellness, and professional along with both the cultural and recreational tourism. With travellers becoming savvier, we're proud at Hilton, to be managing a diversified portfolio of hotels that caters to their needs."
According to Kabalan, visitors are increasingly expecting an experiential aspect to their stays: "Egypt is capturing the imagination of a whole new, and quite diverse generation of travellers again. Among them are high-spending travellers looking for not only luxury, but also for properties with originality and character. Visitors are seeking a more genuine experience, and hotels must move to accommodate this demand."
Bouldoukian highlights a shift in booking periods saying: "Extended stay hotels are on the rise in Cairo to fit travellers' who are in the city for longer periods. The hotels offer a homelike environment, with free wireless connection, complimentary breakfast, spacious rooms, fully equipped kitchen and on-site laundry service.
"Given the diversification of consumers in the region, Hyatt has found success in the introduction of a number of its brands. We currently operate 21 full service and seven select service hotels in the MENA region and have recently seen a shift in market trends allowing for a greater need of select services, as well as the introduction of more lifestyle driven preferences."
According to Bouldoukian, Hyatt is also working to deepen its guest and customer personalisation: "This is of the utmost importance to the younger generation of travellers and we are committed to the ever-changing market needs. We now have a better understanding of what the next generation of travellers is searching for with regards to hospitality.
"While a lot of the youth are looking for good bandwidth and a reliable internet connection, it has come to light that they are looking for a variety of experiences as well. It is for this reason that the Hyatt properties in the Middle East now prioritise ease of engagement at all times, culinary experiences in line with its beliefs such as those of sustainability."
IHG vice president development – Middle East & Africa Matthew Tripolone adds: "As the Egyptian market matures and diversifies, there is growing demand for quality branded accommodation in the mid-market and upscale hotel segment. This is a direct result of the diversified profiles of the travellers visiting the country."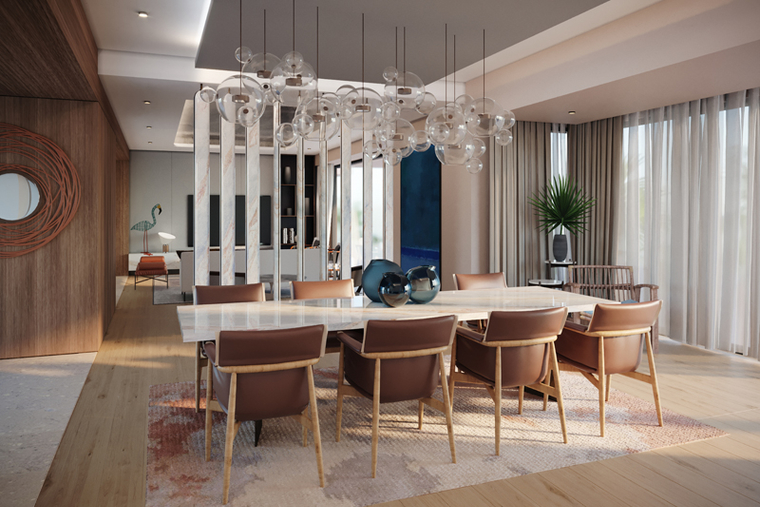 Above: Hyatt Regency Cairo West
Radisson's Tim Cordon echoes the fact that the demographics are changing: "The industry that has historically was fuelled by middle-aged business and leisure travel, and had been affected by economic and political instability is now transforming itself to cater to visitors of all ages from across the globe.
"In addition to more charter flights and cruises coming into the country, the market has been changing and they are adapting their offerings in order to tap in to new markets and be ahead of the game."
This new market is largely made up of discerning yet price conscious travellers. Cordon explains: "A generation of millennials, currently 22 billion globally, have started choosing affordable lifestyle hotels over staying at high-end resorts. This is a great opportunity to attract a different kind of traveller."
Outlook
Looking forward, Bouldoukian underlines several reasons why this is set to be a landmark year for the country: "According to the World Travel Organisation, the number of tourists expected to visit Egypt this year will exceed 15 million, thanks to the strong support provided by the political leadership. The entire world is waiting for the inauguration of the Grand Egyptian Museum, which is anticipated to attract around five million visitors a year.
Tourism arrivals to Egypt are expected to increase, with Easy Jet and other operators resuming operations to Sharm El Sheikh and Hurghada. Once the Sphinx International Airport in Western Cairo is complete, this will allow more multi-destination visits, to the benefit of the capital's hotel sector.
Kabalan is also positive about what the coming year will bring: "We have a bullish outlook for 2020.  In addition to continued growth in our industry, Egypt has been developing a lot of critical infrastructure that should be coming online this year. New developments, highways, airports and roads should all improve the ability for visitors to explore and get the most of Egypt."