COO Interview: FIVE's Star Property
FIVE Hotels and Resorts launched its second hotel, FIVE Jumeirah Village, on September 2 of this year. We caught up with COO Jaydeep Anand
It usually takes more than two years for a brand to establish itself as an operator but no one seems to have informed FIVE Hotels and Resorts COO Jaydeep Anand. Building on the success of FIVE Palm Jumeirah, the company added FIVE Jumeirah Village to its hotel portfolio in Q3 of this year and it seems to have gotten off to a fl ying start.

Anand said: "The response has been spectacular. It's unexpected. Honestly, we were not geared for this kind of occupancy. I have a second hotel so it's easy for me to move resources otherwise this would've been pretty hard because I didn't gear up for 70% occupancy in the fi rst weekend. Out of the 70%, half of those are apartments, which means that they are one bed, two bed or four bed. If you do a blended average, you're looking at 200+ to 300+ rooms. So that was the challenge."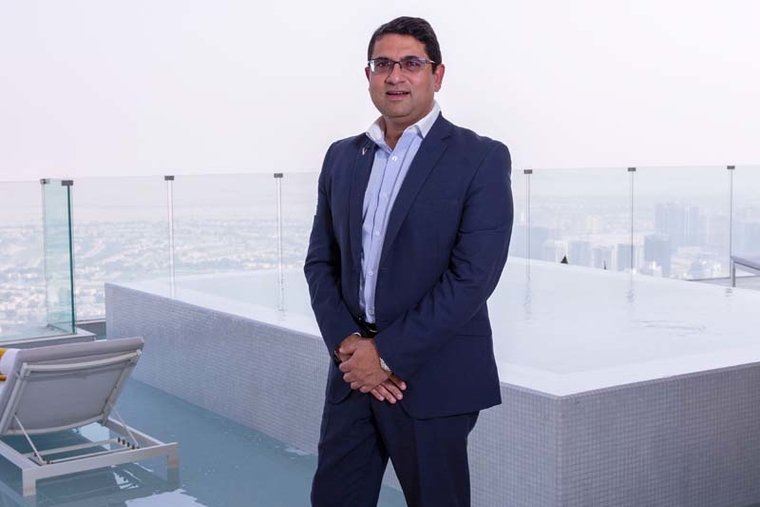 As with any new opening, there were a few teething problems in the beginning: "We had a few unhappy guests which of course we need to take care of but, by in-large, I think the experience was great. We had a great DJ playing in the pool and a packed pool party. That's FIVE. FIVE is an ultimate platform for experiences. We provide you a destination to unwind and to party. We specifically target the luxury millennial. We are very clear on who our target market is and we're very clear on how to go after them.

"Our marketing has done a superb job in going after the market and really getting our line share of the market. It's mainly a digital strategy, I would say 75 to 80%. The team has done a superb job. This would be Amazon's dream team. They're amazing and I'm surprised at the numbers. In this property, we're booking almost 35 to 40% directly. The industry average is about 10-15% and when I'm saying industry I'm talking about the big brands that have been around for a hundred years. So I think the success of the marketing team has been targeting the right customer and bring ing them back. They keep coming back, even though we keep increasing the price, which means that we are really providing a product that is not available with any of our competitors. I think as long as we continue to innovate and go after this market, it's a winning strategy."

Said strategy, which involves influencer marketing and working closely with UK-based Instagram celebrities, has paid off: "We have a high paying crowd. It's not a AED 200 a night crowd, it's a US$ 300 a night crowd. So it's a solid crowd with spending power."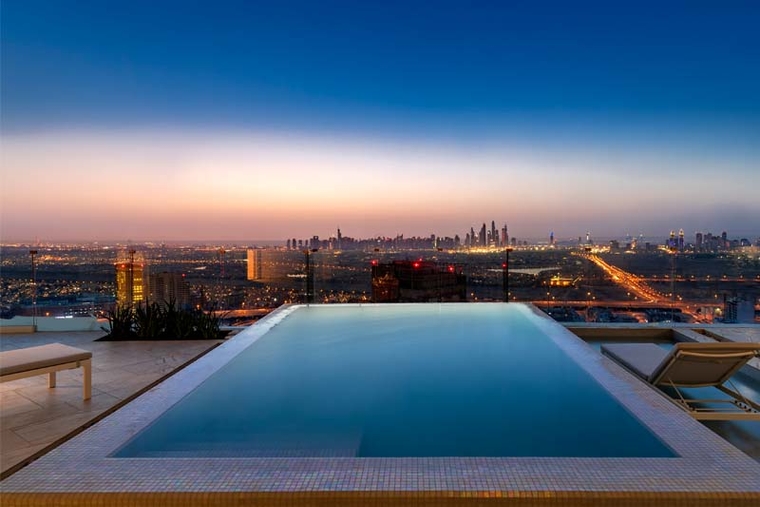 Did you like this story?
Click here for more

Living on site has allowed Anand to keep a close eye on things: "I moved here before the property opened just to make sure that the bookings have worked out and you know when you are on site, when you're  at the hotel things happen faster and people know you're there and of course you lose your cool a few times a day, because you know, things aren't going the way towards pre-opening.I talk to guests all day and I get nothing but great reviews. The food has been spectacular, we've worked a lot on the food. My chefs have been tirelessly working on getting the food right. We believe the food and the drinks have to be the best of the best."
Anand gave some insight into what's to come in terms of F&B. The property's allday dining restaurant, Turn Up, featuring international cuisine and coffee shop, One for the Road have been joined by the recently opened Soul St. He explained: "The concept is global street food, so the restaurant is designed as a street so we actually put tarmac on the flooring of the restaurant. We took off the marble and added road signs and a fire hydrant, so its a street food experience."

According to Anand, the culinary team was hired with authenticity in mind: "We brought our Mexican chef in from Mexico and we have our Thai chef who is from Bangkok, our Indian chef is from India, so we've travelled and brought the chefs back. We haven't hired Dubai chefs even though they might be an Indian or Thai. We are bringing authentic street food into the restaurant."
However, Anand wasn't very forthcoming with the details: "As we get closer, we will disclose that. Hopefully we can have a night club concept in the future, we're still debating."

He seemed happier to talk about current goings-on, saying: "The market is great. We have a lot of expats in Jumeirah Village, we cover JVT, Sports City, Motor City, Arabian Ranches and Barsha South so it's a big catchment area where there's no competition. On The Palm, if I threw a stone, the stone would hit a hotel. That's how close we are to competition. But here, of this caliber, this architecture and targeting the luxury millennial market, it doesn't exist."
We have 250 rooms which also comprise 20 master suites with the pool/Jacuzzi outside and 250 apartments of which 150 would be run as part of the hotel. So far, people who have come to stay have been our target audience – millennials looking for an experiences-driven product. I haven't seen the four beds being taken with families however I am staying with my family of three kids in a four bedroom and it's very comfortable. You could have a party or you can come in with your friends and family. The apartments are spacious, which is what I think has driven the sales. The first eight days we were back-to-back with these apartments, which means these rooms have been 100% occupied."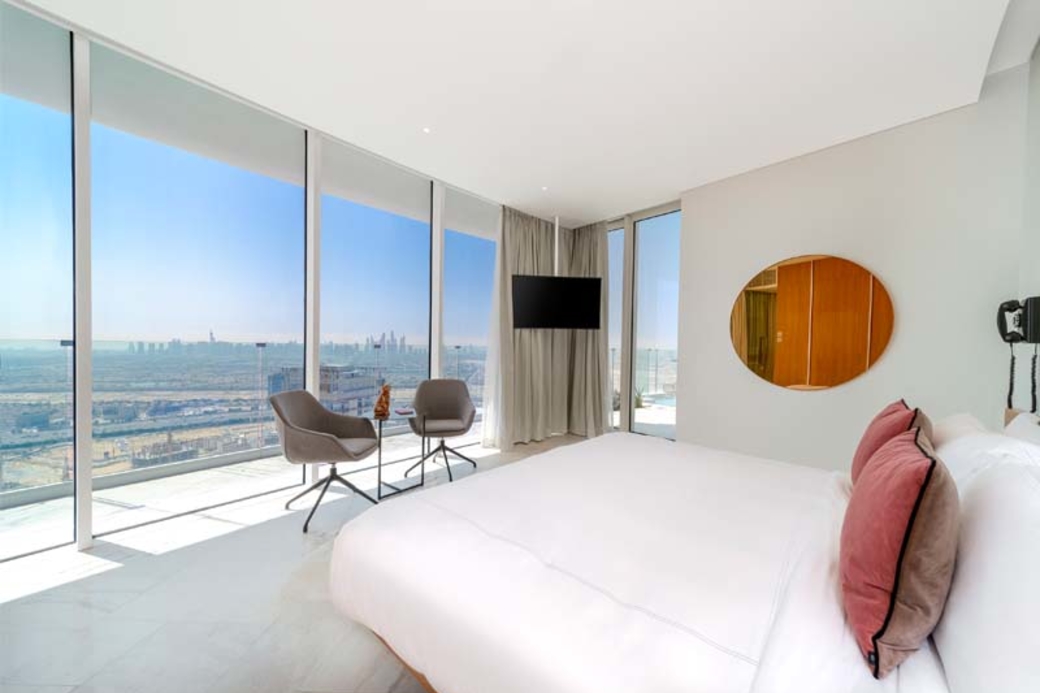 Anand assured that the impressive occupancy wasn't driven by low rates: "The prices are not cheap. Our one beds are expensive. They are about AED 600-700 a night, our two-beds are AED 900 a night and our four-beds are AED 1800 a night. That's US$ 400 to 500 hundred a night, it's not a cheap room."
Anand commented on the current state of the UAE's hospitality sector: "In the first nine months of 2019, the UAE welcomed 12.08 million international visitors and next year with Expo that will increase. That's the good news. The bad news is that we have another 56,000 rooms coming online, many of which will be our direct competitors."
This may be seen as a negative statistic by some. But not Anand. He explained: "What's happening is the consolidation of the big brands, is an actual phenomena that's happening and I think if we talk about the consolidation we love it! The more the industry consolidates, the more cookie cutter they become and the more confused they become as to who their customer is. It solidifies our position even more.
"We know exactly who to target, we know who our target market is and we have ways and means with our digital strategies to go after our target markets. We can give them what they want. We can get the right DJs, the right music and the right entertainment to ensure these customers will only come to us. Now with these brands, as they get more consolidated and brand standards get more enforced, they lose their path."
FIVE Jumeirah Village recorded 85% occupancy in its first two weeks of operation. Anand explained the strategy behind numbers: "Luckily for us, what we see what's coming online is all regular hotels in the five star luxury segment. I don't think they design with the consumer in mind. When we designed FIVE Palm Jumeirah, we designed with the consumer in mind, we designed for young luxury driven millennials. That's why I say FIVE is the ultimate experience platform."
Further underlining the factors that differentiate FIVE from its competitors, he said: "We are more fl exible. We don't close our eyes to where the market is going. We don't have an ostrich mentality. We hear our customers and we react quickly. It's our DNA. We will keep learning every day, from our customers, from our competitors, from books and from our mistakes.
"I think another team success is that, it has a loyalty programme, FIVE Life. We made it really simple. You spend a hundred dollars, you get 10 dollars back to spend on your next room stay with us. It's that simple. There is no playing around with fuzzy math that takes away from the guest points and leaves them with nothing. Just to put our numbers into perspective, global companies that have been around for a hundred years have one room available for every one hundred members and we have 46. I would say the best is yet to come."
In fact, Anand and his team have been giving back for a while: "CSR is our priority, we save a child's life every other day. My wife is the co-founder of the Diya India Foundation and our partnership is called Project Udaan (which means flight in Urdu). We are identifying children born with congenital heart defects and funding their lifesaving operations. So far we have saved over 300 lives. We spend over US$ 1million a year."
Without sharing too many details, Anand confi rms that there is in fact more to come: "We are looking at a few projects and we are now looking at projects that we can turnover fairly quickly. We are looking at a six to 12 month schedule to open hotels. We are developers so we can go in really fast and turn around properties. In the last two years we have also proved that we can also run hotels, so we will keep to that strategy."