Market Update: North Africa
After a tough few years, the North African market is showing signs of not just recovery, but maturity. Hotelier Middle East speaks to operators about their ambitious plans for the region
Often overlooked as an investment market because of political unrest and instability, the North African market is witnessing a hospitality renaissance, as hotel operators and investors look to cash in on growing tourist numbers.

Colliers International MENA senior manager James Wrenn says: "We certainly see a returning stability across the tourism markets in North Africa, led by many factors such as governmental initiatives to improve security, and investment in the creation of new demand generators. "The North African hospitality markets of Tunisia and Egypt in particular suffered from the effects of the Arab Spring and various security incidents, however certain sub markets within both countries have been able to rebound to previous high performance levels." According to STR Global data, markets such as Egypt and Tunisia have fared well, with an 11.9% and 22.6% growth in RevPAR respectively during Q3 of 2019 versus the same period in 2018.
"Egypt is without doubt one of the top rising markets across the region this year, particularly Sharm El Sheikh. According to our forecast for 2019, RevPAR growth against last year is expected to reach 30% which is a huge leap compared to previous years," Wrenn notes.
The optimism is rubbing off on hotel operators too, with a raft of new hotels in Egypt, Morocco, Algeria and Tunisia announced over the last 12 months. Marriott International currently operates more than 30 hotels comprising more than 10,000 keys across nine brands in North Africa.
According to Marriott International Middle East & Africa's former president and managing director Alex Kyriakidis, the group expects to introduce six new brands in the region, including St. Regis, W Hotels, Residence Inn by Marriott and more.
He says: "Egypt continues to be one of our key markets, as it is home to 17 of our properties, and is expected to add four more hotels in the next five years. We are also seeing a lot of traction in Algeria, where we have nine hotels, and five more hotels in the pipeline." Marriott International is also looking at significant expansion in Morocco, where it currently operates three hotels, and anticipates opening 11 new properties in the next three to five years, Kyriakidis reveals. Similarly, for Hilton, Egypt remains the group's biggest market in North Africa. The group currently manages 16 hotels and resorts in Egypt, three in Morocco, and one franchised property in Algeria. 
Hilton vice president of operations for Egypt and North Africa Mohab Ghali says: "Hilton's plan for Egypt and Morocco is an ambitious one, we have 10 hotels in the pipeline and are bringing in new brands to two markets full of potential while expanding on the existing brands."
The plan includes launching the Waldorf Astoria brand in Africa for the first time, as well as entering new up and coming destinations within both countries such as "New Cairo" and Port Said. Additionally, the group will open its fourth hotel in Morocco next year – Hilton Taghazout Bay, which will be located in the new sustainable Taghazout Bay Resort complex. InterContinental Hotels Group is looking to double its portfolio in the next three to five years, with six pipeline hotels in Egypt and Morocco. These include the recently signed Voco Giza Pyramids, which is due to open in 2022, as well as the first Crowne Plaza hotel in Cairo next year. In Morocco, the group has two Six Senses resorts in the pipeline.
Explaining the renewed interest from hoteliers in the region, Ghali says: "The North African market is a growing region in terms of number of visitors and tourism trends.
For example, the Moroccan Tourism Observatory has announced that nearly 7.5million tourists visited Morocco by the end of July 2019, an increase of 8.2% compared to the same period last year.
"In Egypt, tourism numbers continue to grow and the industry itself is expanding into new types of tourism such as medical, health and wellness, professional and more. By end of 2018, the country had a reported increase of 41% in the number of tourists visiting Egypt over the previous year.

"All of this gives us confidence in the vast potential of the travel and tourism industry across North Africa. As such, we are constantly expanding our presence as well as looking for new opportunities in the region."
Additionally, an improvement in security, air connectivity, and visa facilitation has also helped drive visitor number up, IHG vice president development – Middle East & Africa Matthew Tripolone notes.

"With the government's continued global marketing drive, tourist flow is expected to increase further in the next couple of years which will continue to support the market occupancy rates," he adds.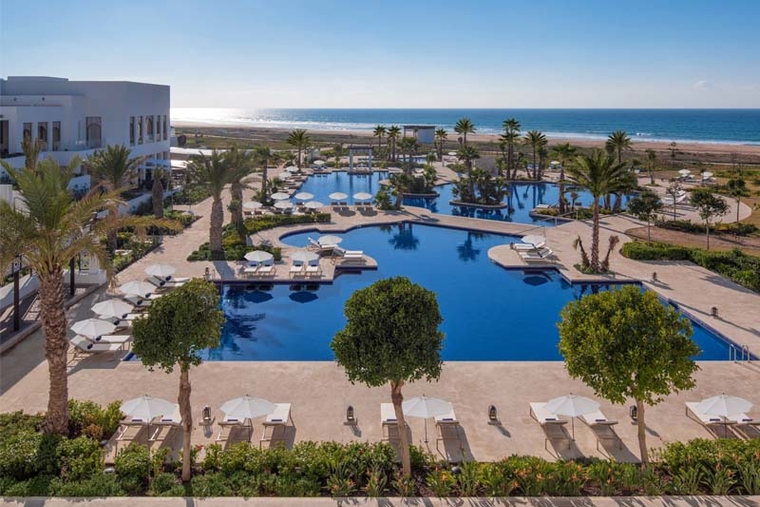 Opportunities and challenges 
The North African market offers plenty of opportunities, it is not without its challenges. The biggest challenge, according to Wrenn, is securing capital expenditure and renovations for properties, "especially following a number of years of tourism markets under performing, whereby necessary funds have generally not been accumulated by owners to reinvest in their properties".
Kyriakidis notes: "Hotel development in Africa has its challenges – from geopolitical issues to economic or political instability to concerns around security, to name a few. "While some of Africa's largest economies have seen a slowdown in recent times, we have remained cautiously optimistic that this will stabilise. The economic pressure leads to owners of unbranded hotels and unbranded high end residential to seek conversions to our internationally well-known brands."
Tripolone adds: "Trading presents some challenges due to the volatile political or economic situation in the North African markets. [However], as various North African countries gain greater stability and become more tourist savvy, we are expanding our footprint to cater to the travellers looking for quality accommodation across various segments."
On the plus sides, governments across North Africa prioritising tourism in their overarching development agendas, improving the business climate for tourism and encouraging investment in infrastructure and hospitality.
Ghali says: "According to UNWTO, North Africa represents 27% out of the total tourist arrivals to the Middle East and Africa, with trends showing strong interest from fast-growing emerging markets such as India and other Asian countries. This reflects notably on our operations, with group bookings being made from these emerging source markets."
Additionally, as the market matures and diversifies, operators are seeing a growing demand for quality branded accommodation in the mid-market and upscale hotel segment.
Kyriakidis notes: "There is great need for infrastructure throughout Africa and hotels are part of that infrastructure. As the middle class grows so will the demand for affordable lodging." Tripolone adds: "We have also seen an increasing popularity of mixed-use developments that typically feature commercial, residential, entertainment and cultural options."
IHG's Holiday Inn Giza Sun Capital and Staybridge Suites Giza Sun Capital will be part of Sun Capital, a mixed-use project in Egypt that will include the first outlet mall in Africa, an Egyptian cultural theme park, and an international university and school. Voco Giza Pyramids will also be part of a mixed-use development.

Wrenn also points to a growing demand for "trendy hotels to meet millennials' expectations and needs".

He explains: "Despite some hotel owners and developers altering their focus and constructing new trendy hotels to meet millennials' expectations and needs, we foresee that there is still a market gap in that area, which can be a great opportunity if it is taken into consideration.

"Hotel developers should also focus on the strength of each market individually and build a product that shall induce demand and have special regard to change in guest profiles." Overall, operators believe the North African market will continue to grow over the next year.
Wrenn says: "Given the current circumstances and strong performance throughout this year, we foresee the market will continue rising and are hopeful we will witness further economic stability across the region. For Egypt, we are excepting a high volume of British tourists following the recent announcement of direct flights resuming to Sharm El Sheikh and Hurghada."
Tripolone states: "As various North African countries gain greater stability and become more tourist savvy, we see an opportunity to offer hospitality across luxury, upscale and mainstream segments through our portfolio of global brands. We are engaged in discussions with strategic partners on growing our footprint meaningfully, in key markets in North Africa."

Ghali adds: "North Africa is a prime destination for various types of visitors. The region has a remarkable historical significance for cultural tourists, natural treatment options for medical tourists, and an authentic modern feel to it for the younger generation. As such, we see vast potential and many opportunities for integrating North Africa further into the global tourism map."