Waldorf Astoria DIFC: Sky high hospitality
Occupying the 18th to 55th floors of Burj Daman, Waldorf Astoria has opened its third property in Dubai. Hotelier Middle East takes a closer look at brand's first urban hotel
An oasis of calm it's not. But then, it isn't meant to be. Waldorf Astoria already has two resort properties in the UAE - Waldorf Astoria Dubai Palm Jumeirah and Waldorf Astoria Ras Al Khaimah but this latest addition, Waldorf Astoria DIFC is the brand's first city hotel in the country.
Located in the heart of Downtown Dubai, The Dubai Mall, Burj Khalifa and The Dubai Fountain are nearby and Gate Village is just a stone's throw away. The location brings with it an enviable mix of potential guests. General manager Victor Chalfoun who brings him 20 years of hospitality experience to the role comments: "The hotel is located in a mixed use development. This has given us a great advantage having access to different audiences. So, whether our guests are in Burj Daman or DIFC, Dubai or UAE or from all over the world, we believe that we have offerings that will appeal to them."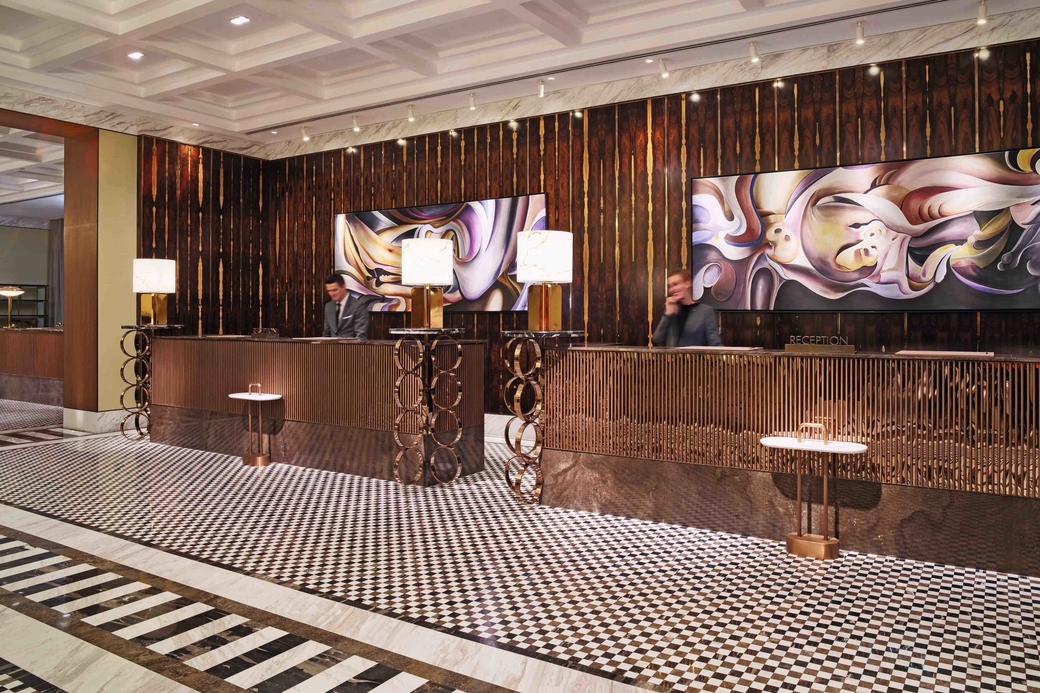 Housed on the 18th to 55th floors of Burj Daman, the complex also comprises residences and office towers. The reception is on the 18th floor, which is also home to the hotel's dining and wellness facilities. There's a lot going on, literally and visually, with hardly a bare surface in sight and distinct textures at every turn. The interiors are inspired by the architecture and style of 1960s New York. The reception is dominated by a brown and cream colour palette, accented with marble, ebony, brass and bronze. Some respite comes in the form of Lebanese artist, Imad Bechara's artwork and the sleek, angular furniture evocative of the period. The property, billed as a design hotel, certainly has a lot of design packed into it.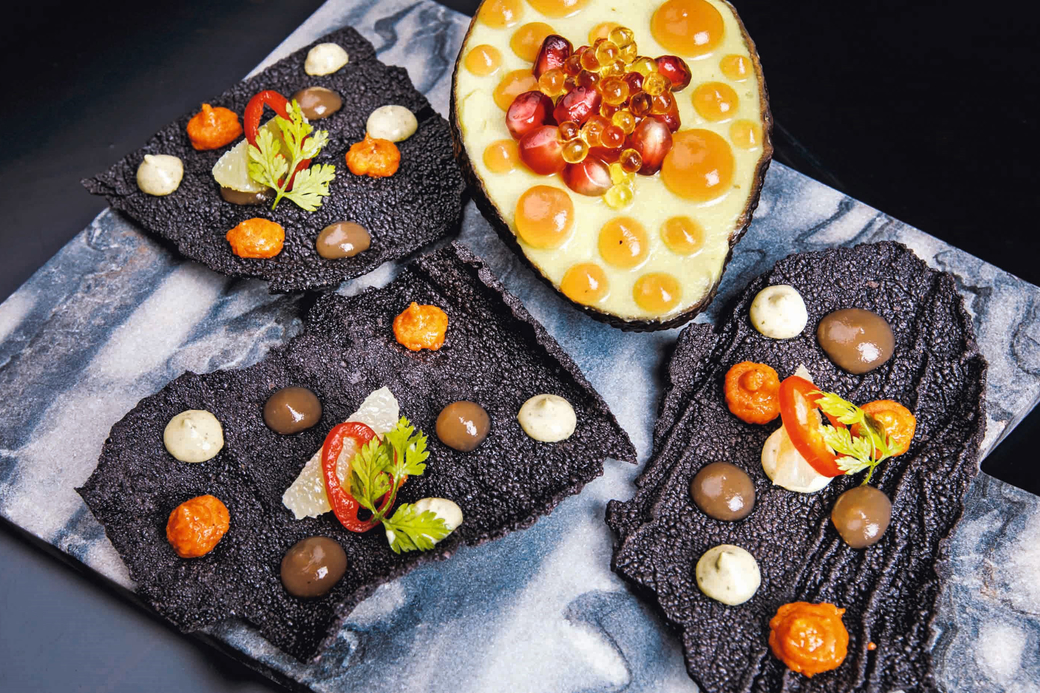 While SRSS are the lead designers behind the project, LW Design Group handled the design for the two main dining and social venues in the hotel - Bull & Bear and St Trop. In Bull & Bear, a bespoke gold-hued metal sculpture of the symbolic animals dominates the entrance. Peacock Alley is home to the instagramable Waldorf Astoria clock. It was custom-made by Smiths of Derby, took a whole year to manufacture and features classic art deco lines. St. Trop, a rooftop lounge set to open after the summer, features elements that 'serve up a slice of the French Riviera'. Lastly, the Cigar Lounge is a refined retreat for the connoisseur, offering a curated collection of the fi nest cigars and evoking the charm of the 1960s.
There seems to be something for everyone. The same goes for the property's F&B offerings. Speaking about signature restaurant Bull & Bear, restaurants and bars general manager Gonzalo Martinez Bueno says: "From meat dishes to seafood, vegetarian and vegan options, the menu features something for all taste buds. For breakfast, guests can enjoy a spread of staples and can also select from a variety of a la carte specialty favourites served straight to the table. For lunch and dinner, we offer a menu of favourites with a global, modern twist such as the chef's take on the Waldorf salad or the prawn cocktail."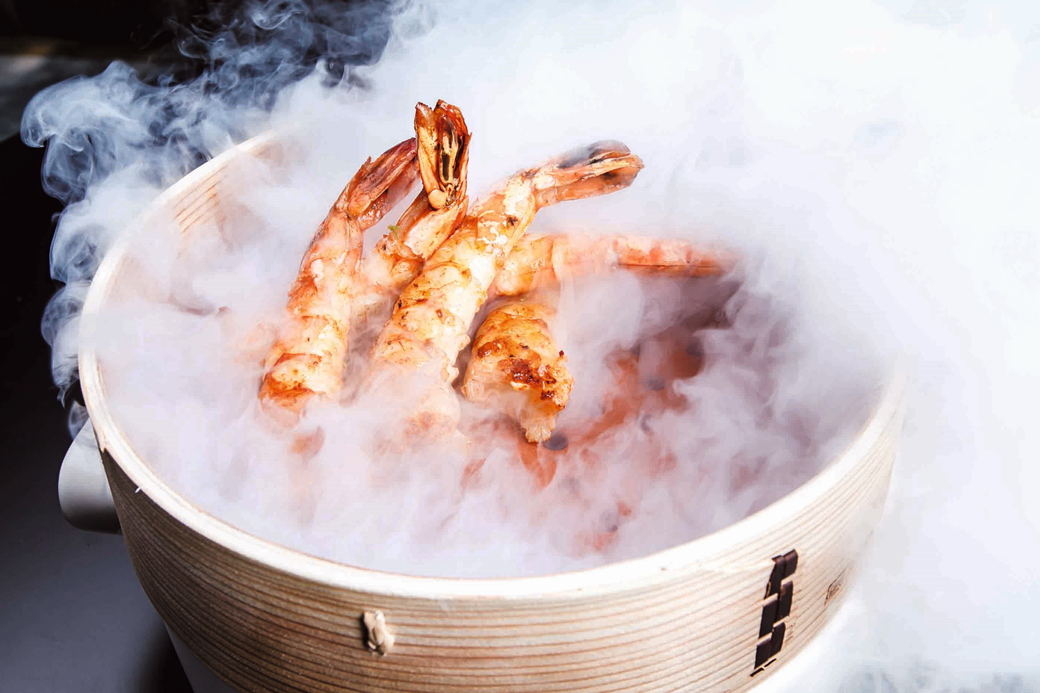 Seasonality also is a key concern for Bueno: "We also work with trusted local suppliers to get the best available ingredients in the market, from fruit to vegetables, seafood to cheese and a wide range of organic products available in the UAE."
Hoping to draw in midday diners, a set business lunch will be available from August 4. Still, it's good service that will keep them coming back. According to Bueno, training the F&B team is a combination of daily, ongoing practice and comprehensive training programmes: "From the outset and prior to the hotel opening, the F&B team underwent intensive training sessions on True Waldorf Service standards, as well as deep product knowledge on provenance, seasonality, dietary elements, wine pairing etc.
Now on a daily basis, the team strives for perfection through knowledge-sharing, daily guidance and ongoing menu training." We face challenges together and celebrate successes together. Therefore, communication among all levels is key to ensuring we discuss and solve all issues pertaining to menu items, guest feedback, new trends and suppliers." Joining Bueno are some big names in regional F&B including bar manager Raven Rudolph, Luigi Vespero as the opening chef and Giovanni Paolo Pintore as the head chef for Bull & Bear. Commenting on how he built his team, he says: "As a whole, we wanted to ensure that our team members not only have the right skill set required for each job function but also have a luxury mindset, allowing them to cater to and exceed guest expectations. It was also very important for us to bring to the table a diverse group of people, in terms of gender, experience and background. Personality matters; it is what makes each individual unique and is our greatest competitive advantage."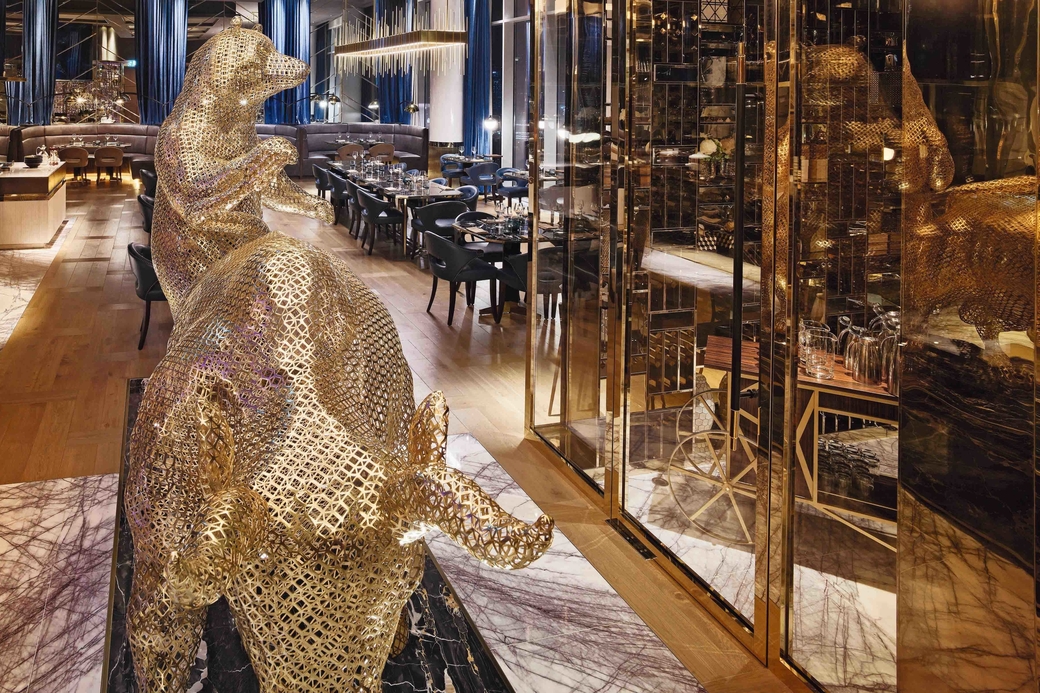 Director of human resources Yasmine Farouk whose motto is 'hire for attitude, train for skills', also employed an inclusive hiring strategy saying: "Diversity is at the core of Hilton's vision, mission and values. At Waldorf Astoria DIFC specifically, we have hired a diverse range of team members, with a broad set of backgrounds and expertise. There are 50 different nationalities and high female to male ratio. We are also pleased to have a number of female team members carrying out roles in traditionally male-dominated departments such engineering, stewarding and the kitchen."
For Farouk, empowerment is key to retention: "At Waldorf Astoria DIFC, our teams' experience is just as important as the guests' experience. We ensure that our team members are seen, heard, valued and respected. The priority at Waldorf Astoria DIFC is to create an inclusive, supportive culture so that every team member feels that they are part of our family.
Although this is Chalfoun's first forray as a pre-opening GM, he isn't new to the brand. This appointment marks Chalfoun's 10th role across Hilton's portfolio. Speaking about his approach to management, he says: "My leadership style can be described as hands-on, inclusive and enabling. We have trained our team in a fashion of hosting guests as opposed to serving guests and we feel this will make a big difference in the way our guests see it from a guest experience." I joined the property a year ago and it was perfect timing because it allowed us to work with different stakeholders from the architecture team, project team and it was really good because the project team sees things from a construction perspective. We see things from a guest's perspective and so having both of us around the table, I think added a lot of value to the project."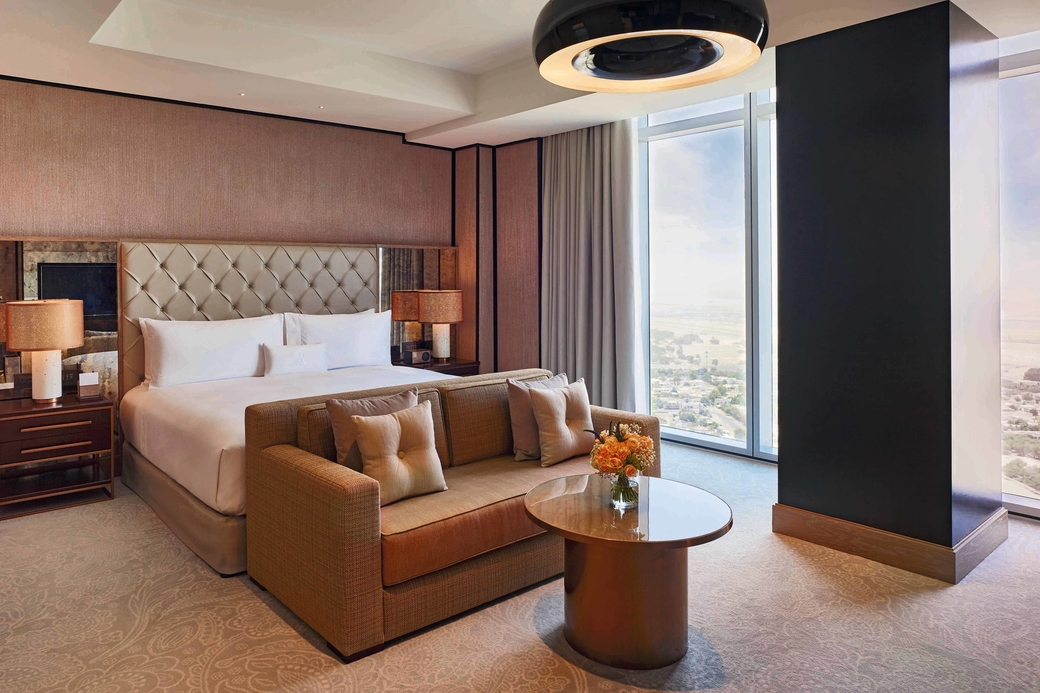 When it came to appointing his team, Chalfoun was hands on: "We are in a business that is basically driven by people. I have been very lucky to be involved in the interviewing of each and every single team member working with us during the preopening phase. I think we were able to identify an amazing team."
Figuring out how to best communicate with the property's diverse demographic of guests is a priority for Chalfoun. He says: "What we do as hoteliers is we segment our market and accordingly we try to understand who likes to be communicated with and in what channels and what messages they like and accordingly we come up with various strategies. Many people prefer online marketing than offline. We cover both but online marketing is on the rise."
Also on the up is Hilton's commitment to CSR initiatives. The organisation, which is celebrating its 100th year anniversary this year, recently launched its Travel with Purpose programme which aims to redefine sustainable travel globally. Chalfoun explains: "By 2030, we won't use any plastic straws across the hotel, no plastic bottles in our meeting rooms and are continuously looking for opportunities to reduce our waste."
For Chalfoun, what sets the brand apart is innovation: "We are proud to be part of a company that embraces innovation. We were the first company that introduced a TV in a room, the mini bar and 24-hour room service. From a culinary perspective we invented the Waldorf salad, the red velvet cake and many other examples. At Waldorf Astoria DIFC, our guests will be able to do a digital check in so they will be able to choose the rooms before arriving to the hotel and would have access to a digital key" Director of rooms Ayman AlMohamad explains: "At Waldorf Astoria DIFC, our guests will have access to the Hilton Honors app which offers a number of features. Through the app, guests have the ability to check-in and choose their exact room from digital floor plans. The hotel will also have Digital Key, which enables guests to simply and securely open the door of their room, as well as any other area of the hotel that requires a key, at the touch of a button."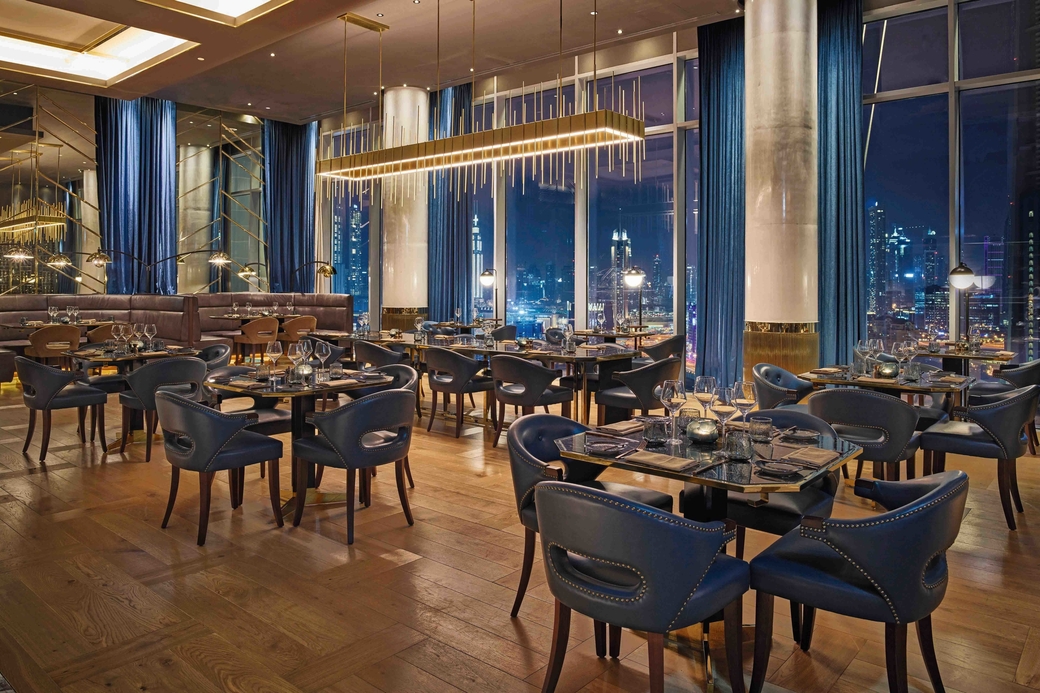 Though technology can make a stay more convenient and certain operations more efficient, fostering human connection is still at the forefront. AlMohamad says: "Our combined guest relations and butler service works to create flawless experiences by tailoring guests' stays to their exact specifications. Throughout the stay, we encourage guests to share their feedback via various channels, allowing us to take the comments on board and continue to deliver a preemptive and personalised service.
"Our rooms also offer world-class amenities to ensure that guests have everything they need, when they need it, at their disposal. All guest rooms, including 46 suites and 28 residential suites, offer views of the Downtown Dubai skyline, through floor to-ceiling windows and are comparatively spacious. Our entry level rooms for example, are one of the largest in DIFC at 43m2. "
Another standout feature are the events and meeting room facilities which are set to be key revenue drivers. The hotel offers five settings, including a library concept which houses an open kitchen. The meeting rooms, grand ballroom with a prefunction area and the boardroom are all customisable, allowing clients to create their desired setting. Earlier this year, His Highness Sheikh Mohammed bin Rashid Al Maktoum approved the extension of the second phase of the DIFC. It is estimated that the project will add roughly 13 millionft2 to the district.
Chalfoun beams: "We are very thrilled to be part of that increasingly growing district and look forward to working closely with all the DIFC guests to give them an unforgettable experience.